Guide to Starting a Business in Ohio Gets an Update
Dan Bowerman
Ohio Development Services Agency
New business filings in Ohio remain at a record pace, according to reports from the Secretary of State's office. A great place for entrepreneurs to start is with the "Starting Your Business in Ohio" guide, which was recently updated.
The new guide includes handy checklists of tasks that new business owners will need to accomplish, and there are tons of resources that can help the business get off the ground successfully. That includes information about building a business plan, along with a questionnaire to speed that process along.
The guide is available on the Ohio Business Gateway at business.ohio.gov/starting. With it is a new guide, titled "Hiring Your First or Next Employee." This guide will walk employers through the steps needed to hire a new employee.
Entrepreneurs also should reach out to the Ohio business assistance centers for help in starting and growing a business. Find a local Ohio Small Business Development Center at sbdc.development.ohio.gov. Find a Minority Business Assistance Center at minority.ohio.gov. Services are offered by trained advisors at no cost.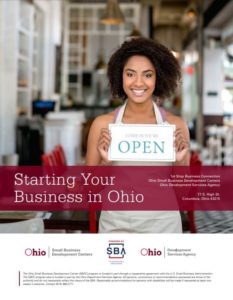 Over the last year and a half, our world has been shaken, leveling the playing field and giving rise to new opportunities. Ohio has taken advantage of this generational opportunity with new programs and services that strengthen Ohio's businesses and attract new ones to our state.
read more