80 Acres Farms To Open First Fully-Automated Indoor Farm in the United States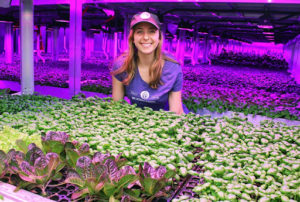 80 Acres Farms, a fast-growing Cincinnati-based firm in the indoor vertical farming industry, announced it is building in Hamilton the first fully-automated indoor farm in the U.S. A ceremonial groundbreaking ceremony took place on Monday, September 24 to mark the first phase of the project. The initial phase is expected to be completed later this year and will feature state-of-the-art grow centers to produce specialty greens that include microgreens, culinary herbs, leafy greens and kale.
The company plans three additional phases at the Hamilton site. When completed the project will comprise approximately 150,000 square feet of fully-automated indoor farming, also known as controlled environment agriculture (CEA). The full-phase expansion will allow 80 Acres Farms to provide more product to serve its existing customers and new ones with just-picked, year-round produce.
Produce grown at the Hamilton site will supply Whole Foods Markets, Dorothy Lane Markets, Jungle Jim's, U.S. Foods, and other retailers and foodservice distributors. 80 Acres Farms currently serves Cincinnati-area customers from its facility in the Cincinnati community where it grows microgreens, culinary herbs, leafy lettuce, kale, vine crops like cherry tomatoes, cucumbers and peppers.
"We already have demonstrated that we can provide to our customers the freshest, best-tasting and nutritious locally-grown produce, while using renewable energy, very little water, and no pesticides," said Mike Zelkind, co-founder and chief executive officer of 80 Acres Farms. "With the Hamilton facility we will achieve the next-generation of indoor vertical farming using best of breed technology. This project will deliver our proof of concept that indoor farming can be fully-automated, commercially scalable, higher-yielding, and profitable. It will serve as a prototype for our ambitious plans to co-locate similar facilities with commercial customers in other parts of the country.''
Zelkind said the Hamilton site will be automated from seeding to growing to harvesting for highest quality and food safety standards. 80 Acres Farms personnel will manage the Hamilton facility, which will feature robotics, artificial intelligence, data analytics, and around-the-clock monitoring sensors and control systems to optimize every aspect of growing produce indoors.
Hamilton officials worked closely with the company for the past year on the site selection. "The City of Hamilton is very excited about the expansion of 80 Acres in our community," said Joshua Smith, City Manager. "This is a first-in-class company, whose innovations will improve access of fresh foods to areas that need them the most."
Pat Moeller, Hamilton's mayor, also commented on the announcement: "Hamilton thanks 80 Acres Farms for its investment in our City. 80 Acres' high tech indoor farm efficiently grows fresh produce that will continue to be sold locally. I have had the opportunity to purchase 80 Acres produce and really enjoyed the fresh, flavorful taste."
As part of the Inflation Reduction Act (IRA) passed in 2022, a new federal program was created that provides great opportunity for Ohio – the Greenhouse Gas Reduction Fund (GGRF). It allocates $27 billion in financial assistance through three programs to reduce harmful air pollutants, mobilize financing and private capital, and deliver benefits for low-income and disadvantaged communities.
read more