Around the Town Returns to Downtown Tiffin
Event Aims to Introduce University Students to Businesses and Organizations in Community
Bryce Riggs
Seneca Regional Chamber of Commerce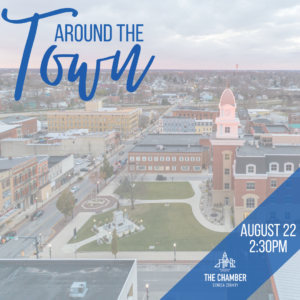 TIFFIN, OHIO – The Around the Town event hosted by the Seneca Regional Chamber of Commerce in partnership with Heidelberg University and Tiffin University will be returning to Downtown Tiffin on August 22 at 2:30 PM. The Around the Town event gives incoming and returning students the opportunity to become familiar with the businesses and organizations that make up Seneca County. In previous years, nonprofit organizations have been successful in recruiting volunteers from the universities at this event.
During the event, registered businesses and organizations set up a booth to showcase their products and services to the university students. The students, along with campus leaders, walk to the event from their respective campuses.
The Chamber is actively working with both universities to ensure a safe and successful event for the more than 3,000 university students that call Seneca County home for a majority of the year. Organizations are asked to sign up online at www.tiffinchamber.com/surveys/around-the-town and the Chamber will provide more specifics as the plan is confirmed. Businesses and organizations can call the Chamber office at 419-447-4141 regarding the event.
About the Seneca Regional Chamber of Commerce
For over a century, the Seneca Regional Chamber of Commerce has been the trusted source of knowledge and support for area businesses. As innovators who find new ways of getting things done, they are staying up to date on economic, community, and technological developments. The Chamber wants their members to thrive, raising the bar for growth and prosperity in Seneca County. Learn more at www.TiffinChamber.com.
Ohio's Joint Economic Development District (JEDD) program is the major state program that enables collaboration among municipalities and townships to encourage investment and job creation. Over the past few years, the JEDD program has undergone a number of significant changes that impact on its practical use.
read more