Attracting the Next Generation to Uptown Cincinnati: Talent Kitchen Cabinet Provides Advice and Perspective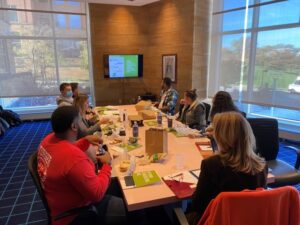 Uptown Consortium, Inc. (UCI) kicked off its second cohort of Uptown Cincinnati's Talent Kitchen Cabinet (TKC) in November, convening a group of young people to provide input and insights that will inform UCI's work in the community. This second cohort consists of nine University of Cincinnati students with diverse backgrounds and interests who will focus on how Uptown can become a place where young talent wants to be and fuel innovation.
The first cohort of TKC provided advice and perspective on the Uptown Innovation Corridor in the Cincinnati Innovation District in 2019. UCI brought together students/recent graduates and Corridor developers to discuss a wide array of topics, including the kinds of built environments, designs and amenities that would attract them to jobs in the Corridor. Themes that emerged from those sessions were the need for multi-modal transportation, a strong connection to nature and lots of amenities, ranging from retail to programming. This feedback was incorporated into development plans at the intersection of Martin Luthor King Drive and Reading Road.
After the success of the first TKC cohort, UCI made the decision to convene a second cohort in 2021, centered on Uptown Cincinnati as a whole. The first meeting was held on November 3rd at the Graduate Hotel, where President & CEO Beth Robinson presented to the group, highlighting UCI's mission, background and strategic focus areas. Much of the meeting was spent in discussion through a Q&A session.
"The first TKC cohort provided us with valuable insights that can inform UCI's plans moving forward," Robinson said. "This new group of students are not only living and entrenched in Uptown, but directly affected by UCI's work. That connection is hugely important to us, which is why we're so appreciative of their honest feedback."
Some key insights from the 2021 cohort's first session included:
Walkability, uniqueness, and community atmosphere are highlights of Uptown
A shared desire for more locally owned businesses/startups and an increase in safety measures to create a better sense of place
An overview of changes that would entice more students to stay in Uptown, including continued growth, higher quality housing, and post-college life development
The second meeting of the 2021 TKC was held on December 7th at the Upside on Ludlow and featured a special guest presentation on transportation from Wade Johnston, Director of Tri-State Trails with Green Umbrella. The presentation highlighted Cincinnati's first-ever urban trail loop, the CROWN, which is a 34-mile multi-use paved trail that connects Cincinnati's communities to major destinations and landmarks.
Johnston also spoke about the Uptown Connector at Wasson Way, which is expected to be online in 2024. The Connector will be used to bridge Wasson Way to the Uptown Innovation Corridor in the Cincinnati Innovation District at the intersection of Martin Luthor King Drive and Reading Road. Further discussions are being had on connecting from the Corridor to the anchors in Uptown.
The session closed with discussions on a range of topics, including electric scooters, micro-mobility lanes and Cincinnati Red Bike, which has 12 stops in Uptown.
The third TKC session will be in February of 2022 and focus on amenities in Uptown. Feedback and comments from all TKC meetings will be used to inform the work and developments of UCI moving forward.
As part of the Inflation Reduction Act (IRA) passed in 2022, a new federal program was created that provides great opportunity for Ohio – the Greenhouse Gas Reduction Fund (GGRF). It allocates $27 billion in financial assistance through three programs to reduce harmful air pollutants, mobilize financing and private capital, and deliver benefits for low-income and disadvantaged communities.
read more