Boyarko Named Chamber's Chief Operating Officer
Kim Calvert
Youngstown/Warren Regional Chamber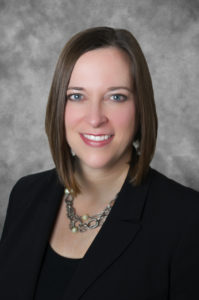 The Youngstown/Warren Regional Chamber is pleased to announce the promotion of Sarah Boyarko to Chief Operating Officer of the organization.
In her role as COO, Boyarko will support the entire Chamber team's daily efforts to deliver quality services that members, investors and the business community have grown accustomed to, while continuing with her responsibilities in the Economic Development division, of which she has been senior vice president for the past three years.
James Dignan, president & CEO of the Regional Chamber, said, "The creation of a Chief Operating Officer position and the appointment of Sarah Boyarko will create additional senior management capacity to oversee the Chamber's various and diverse programs, initiatives and divisions. In her new role she'll be focused on greater internal alignment of our departments and individual services to ensure success in reaching our strategic goals, as well as inclusive economic growth and deeper local engagement across the region."
Boyarko joined the Regional Chamber in October 2006 and became vice president of Economic Development in 2012.  She has led the activities of the division's business retention & expansion program and national attraction efforts and has spent a great deal of time educating the public and business community about the organization's many economic development services. Under her direction, the Chamber's economic development staff has managed a variety of projects, resulting in nearly $3 billion of investment and the creation of 5,927 new jobs throughout Mahoning and Trumbull counties.
She represents the Regional Chamber as a Northeast Ohio Area Director and Board Member of the Ohio Economic Development Association, Team NEO Business Development Council and Working Group and the Akron Children's Hospital Leadership Council.
The Boardman resident is a 2009 graduate of Leadership Mahoning Valley and 2009 Mahoning Valley Young Professionals 40 Under 40 Award nominee and earned her Bachelor's and Master's of Science degrees from Youngstown State University.
xxx
About three months ago, we launched our Recovery Within Reach campaign, a first-of-its-kind effort to educate Ohioans about the financial effects of opioid addiction — and to connect them with treatment options close to their homes.
Our goal is to create a new way of talking about addiction, one in which people consider the facts and practical realities of how substance use disorder affects their lives. Not long ago, Gov. Mike DeWine challenged all of us in state government to think of ways we could help Ohioans navigate the opioid crisis that has affected our state for so long. For us, that meant considering the financial effects of addiction — and providing tools and trainings to help Ohioans and financial advisers talk about addiction and access care.
read more