Carbo Forge Investing $1.1M in Programable Hammer
Andrea Gibson
Sandusky County Economic Development Corporation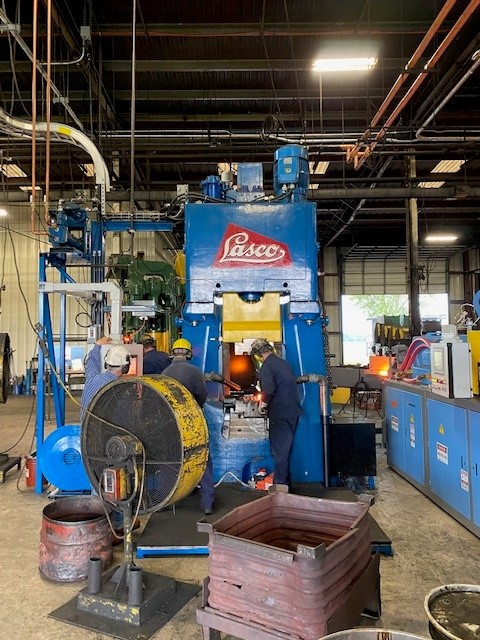 Fremont- Sandusky County, Ohio – Carbo forge, a steel forging company, has announced their recent capital investment of approximately $1.1 million into its 150 SR 523 facility in Fremont, Ohio.
Carbo Forge IATF16949 is a forging company that supplies steel forging to machine shops with value added services.  Their Zero-Defect Policy ensures that their customers receive the highest quality forgings possible by consistently improving forging quality through the exceptional standards held by their employee owners.
Carbo Forge is 100% employee owned and prides itself on maintaining a tenured and skilled workforce who utilize world class operating efficiencies to supply an array of markets with carbon, alloy, and stainless-steel forgings weighing up to 15 pounds.
"Carbo Forge will be installing a new programable hammer later this month" stated Rick Egbert, Vice President and CFO at Carbo Forge. "This new technology will retain up to 8 jobs and allow for a much smaller learning curve for newer operators to be able to run and maintain it".  It will also allow for us to control the amount of energy used in each blow in the forging process.
Carbo Forge is an acknowledged leader in the United States being the first forging company in North America to be TS16949 certified (an internationally recognized Quality Management System specification for the automotive industry) and implementing ERP total solutions such as Plex, and incorporating 6 Sigma oversight into process evaluation.
"Sandusky County is fortunate to have a company like Carbo Forge located within our county" stated Beth Hannam, Executive Director of the Sandusky County Economic Development Corporation.  "We are excited to hear about their continued investment with new machinery and equipment, their investment within their employees, and their investment within the county".
About SCEDC: Sandusky County Economic Development Corporation (SCEDC) is a non-profit organization that focuses on workforce development, business retention and expansion, and business recruitment for Sandusky County.
About three months ago, we launched our Recovery Within Reach campaign, a first-of-its-kind effort to educate Ohioans about the financial effects of opioid addiction — and to connect them with treatment options close to their homes.
Our goal is to create a new way of talking about addiction, one in which people consider the facts and practical realities of how substance use disorder affects their lives. Not long ago, Gov. Mike DeWine challenged all of us in state government to think of ways we could help Ohioans navigate the opioid crisis that has affected our state for so long. For us, that meant considering the financial effects of addiction — and providing tools and trainings to help Ohioans and financial advisers talk about addiction and access care.
read more