CEP Takes Director of Agriculture on Tour of Specialty Farms
Marcia Bailey
Champaign Economic Partnership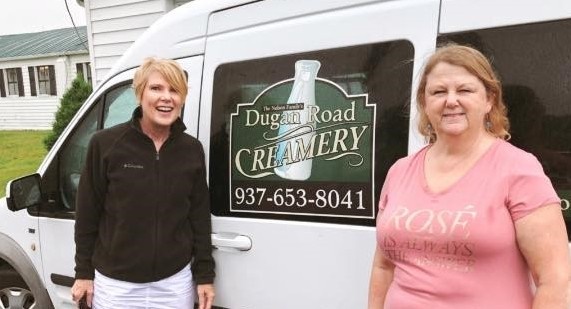 The Champaign Economic Partnership (CEP) hosted Dorothy Pelanda, director of the Ohio Department of Agriculture, on a tour of specialty farms in Champaign County. The CEP planned the tour in cooperation with the Champaign Agricultural Association.
Pelanda toured Dugan Road Creamery (in photo with Joyce Nelson of Dugan Road Creamery), which makes specialty dairy products such as cream-line milk, yogurt, kefir and specialty cheeses; Freshwater Farms of Ohio, the state's largest indoor fish hatchery; and the Champaign Berry Farm.
Following the tour, Pelanda spoke at the Pretty Prairie Farm of CEP President Todd Michael and his wife, Jill, before a showing to local officials, farmers and FFA students of the documentary "Farmers for America," narrated by Mike Rowe.
About three months ago, we launched our Recovery Within Reach campaign, a first-of-its-kind effort to educate Ohioans about the financial effects of opioid addiction — and to connect them with treatment options close to their homes.
Our goal is to create a new way of talking about addiction, one in which people consider the facts and practical realities of how substance use disorder affects their lives. Not long ago, Gov. Mike DeWine challenged all of us in state government to think of ways we could help Ohioans navigate the opioid crisis that has affected our state for so long. For us, that meant considering the financial effects of addiction — and providing tools and trainings to help Ohioans and financial advisers talk about addiction and access care.
read more