CEP Takes Director of Agriculture on Tour of Specialty Farms
Marcia Bailey
Champaign Economic Partnership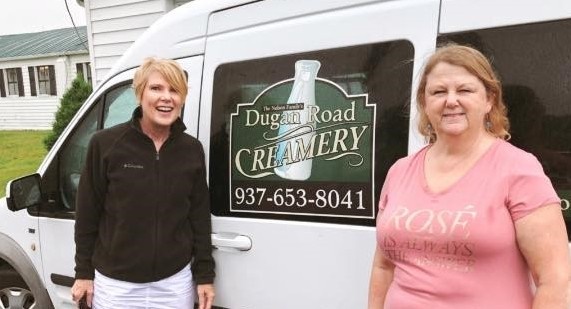 The Champaign Economic Partnership (CEP) hosted Dorothy Pelanda, director of the Ohio Department of Agriculture, on a tour of specialty farms in Champaign County. The CEP planned the tour in cooperation with the Champaign Agricultural Association.
Pelanda toured Dugan Road Creamery (in photo with Joyce Nelson of Dugan Road Creamery), which makes specialty dairy products such as cream-line milk, yogurt, kefir and specialty cheeses; Freshwater Farms of Ohio, the state's largest indoor fish hatchery; and the Champaign Berry Farm.
Following the tour, Pelanda spoke at the Pretty Prairie Farm of CEP President Todd Michael and his wife, Jill, before a showing to local officials, farmers and FFA students of the documentary "Farmers for America," narrated by Mike Rowe.
On November 13 and 14, JobsOhio was honored to partner with the Air Force Life Cycle Management Center (AFLCMC) and the Dayton Development Coalition to hold AFLCMC Pitch Days at Carillon Historical Park in the Dayton region. The two-day event connected industry, venture capital and the U.S. Air Force together to facilitate support for cutting-edge technologies. These were the first Pitch Days held in Dayton, but we anticipate they will not be the last.
read more