CEP Takes Director of Agriculture on Tour of Specialty Farms
Marcia Bailey
Champaign Economic Partnership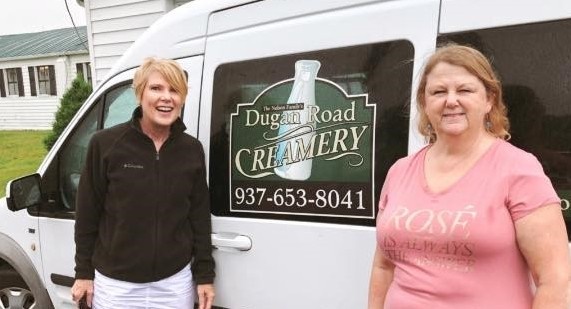 The Champaign Economic Partnership (CEP) hosted Dorothy Pelanda, director of the Ohio Department of Agriculture, on a tour of specialty farms in Champaign County. The CEP planned the tour in cooperation with the Champaign Agricultural Association.
Pelanda toured Dugan Road Creamery (in photo with Joyce Nelson of Dugan Road Creamery), which makes specialty dairy products such as cream-line milk, yogurt, kefir and specialty cheeses; Freshwater Farms of Ohio, the state's largest indoor fish hatchery; and the Champaign Berry Farm.
Following the tour, Pelanda spoke at the Pretty Prairie Farm of CEP President Todd Michael and his wife, Jill, before a showing to local officials, farmers and FFA students of the documentary "Farmers for America," narrated by Mike Rowe.
This two-day course is designed to provide the Ohio economic development professional with the critical steps of real estate development and a comprehensive understanding of how a deal progresses through to completion. Attendees will analyze the anatomy of a real estate deal and learn how each component stage impacts the next, and how real estate development is practiced in Ohio. This understanding will help the ED professional recognize the challenges (and often barriers) to advancing a new development in their community and to more thoughtfully understand approaches in helping close the deal.
read more