CEP Takes Director of Agriculture on Tour of Specialty Farms
Marcia Bailey
Champaign Economic Partnership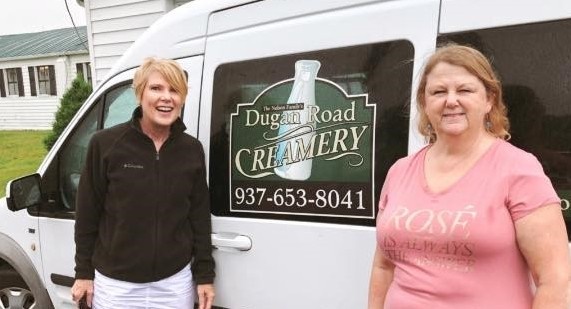 The Champaign Economic Partnership (CEP) hosted Dorothy Pelanda, director of the Ohio Department of Agriculture, on a tour of specialty farms in Champaign County. The CEP planned the tour in cooperation with the Champaign Agricultural Association.
Pelanda toured Dugan Road Creamery (in photo with Joyce Nelson of Dugan Road Creamery), which makes specialty dairy products such as cream-line milk, yogurt, kefir and specialty cheeses; Freshwater Farms of Ohio, the state's largest indoor fish hatchery; and the Champaign Berry Farm.
Following the tour, Pelanda spoke at the Pretty Prairie Farm of CEP President Todd Michael and his wife, Jill, before a showing to local officials, farmers and FFA students of the documentary "Farmers for America," narrated by Mike Rowe.
Join a discussion, hosted by the Greater Ohio Policy Center (GOPC), to learn about the recently passed HB168, which establishes the bona fide purchaser defense (BFPD) into Ohio law. The establishment of the BFPD into Ohio law better aligns Ohio law with federal standards, and aims to encourage the redevelopment of lightly contaminated brownfield sites.
read more