City of Hamilton Releases First Comprehensive Sustainability Report

City of Hamilton Economic Development Department.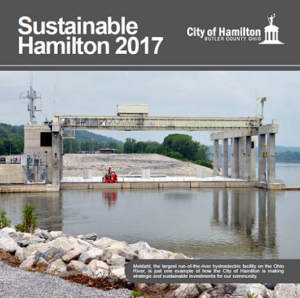 The City of Hamilton's first comprehensive sustainability report, Sustainable Hamilton 2017, was released in late July. This report highlights an integrated approach to economic, social, and environmental responsibility in an effort to create a more sustainable community. More than a year in the making, Sustainable Hamilton 2017 was produced with extensive input from City staff across multiple departments, as well as from numerous external partners. The report's overarching goal is to build a thriving community that is economically prosperous, socially inclusive, and environmentally healthy in order to advance the City of Hamilton's vision of becoming a purposeful destination for working, living, and playing.
Sustainable Hamilton 2017 celebrates the City's achievements and highlights current initiatives that are moving Hamilton forward, while also serving as a three-year action plan to strengthen the City's strategic vision. The report identifies opportunities for further action and provides a method for tracking and reporting progress toward specific objectives and priorities within eight sustainability target areas: Built Environment, Transportation, Economy, Energy, Resource Efficiency, Natural Systems, Health & Safety, and Community Empowerment. Progress will be reported annually and a revised set of goals and strategies will be developed for 2020 and beyond.
The City of Hamilton understands that sustainability is especially important for continued economic growth. In June 2016, Hamilton Utilities, in partnership with AMP, completed Meldahl Hydroelectric facility, a ten-year, $650+ million project on the Ohio River. With Meldahl's generation assets, more than half of Hamilton's power now comes from green, renewable sources, and customers can enjoy lower and more stable rates due to the reliability of hydroelectric power.
To learn more about the City of Hamilton's sustainability vision and goals, click HERE. You can also view the entire Sustainable Hamilton 2017 report HERE, and a one page executive summary HERE.
ROSEVILLE – Nearly a decade of grant-funded projects are transforming the village of Roseville.
Few will have the impact of a the new supermarket building. "It will be the centerpiece of a new downtown," said Heidi Milner, the village's fiscal officer.
It is nearing completion on part of the former Ungemach Pottery site on Potters Lane. Construction was funded by $750,000 in grants, the bulk of which was a USDA Rural Development Grant, and local investment. The new building features a grocery store, restaurant space and a walk-up window that could be used for ice cream orders. Garage doors on each side of the dining area will give it a pleasant summer atmosphere, as will a patio behind the building that opens facing the levy.
read more