Congressman Anthony Gonzalez Visits City of Medina for Workforce Updates
Barbara Dzur
City of Medina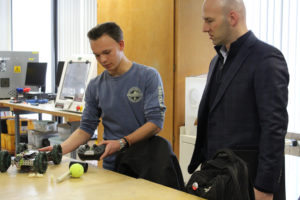 The City of Medina hosted newly elected Congressman Anthony Gonzalez, who represents Ohio US District 16, for an economic development update visit on February 1, 2019.  The day began with a tour of the Medina County Career Center (MCCC), one of the top-rated Career Centers in Ohio. District Superintendent Steve Chrisman and Adult Education Director Peggy Reeves led the group that included city and school officials, Congressman Gonzalez's staff, plus State Representative Darrell Kick whose district includes a portion of Medina County.
The tour focused on what the Career Center is doing to prepare a skilled workforce.  New programs, training adjustments to meet the skills needs of today's businesses, technology advancements, and accelerated training options for both high school and adult students were pointed out as the tour progressed.  An example is Medina's Optical Technology program, one of only two high school training programs in the State of Ohio training is this field. Multiple entry-level employment opportunities await the graduates of this program, or graduates can go on for more advanced training, including becoming an optometrist. All programs at the career center have an educational path that enables graduates to matriculate into college and/or earn college credits while still in high school.
The tour was followed by lunch at the career center and a discussion of workforce issues in Medina County and other concerns, such as funding for the Ohio Department of transportation. The Congressman shared his observations after being on the job for a short time and his insights into what to expect from the national level.
After lunch, the group traveled to FireDex, one of Medina fastest growing companies that has just completed a construction project in 2018 which doubled its building size to accommodate the hiring of 30 additional employees. Fire-Dex LLC, headquartered in Medina, is a leading manufacturer of head-to-toe protection for first responders, including turnout gear, rescue and wildland PPE, boots, hoods, gloves and helmets. After a meeting with company owner and CEO Bill Burke and Human Resources Manager Jamie Marks, the group was joined by State of Ohio Senate President Larry Obhof for a tour of the company.
As with many Medina manufacturers, FireDex is experiencing a shortage of skilled workers.  Marks shared that the company processes nearly 100 applicants for every hire that lasts more than 90 days.
As part of the Inflation Reduction Act (IRA) passed in 2022, a new federal program was created that provides great opportunity for Ohio – the Greenhouse Gas Reduction Fund (GGRF). It allocates $27 billion in financial assistance through three programs to reduce harmful air pollutants, mobilize financing and private capital, and deliver benefits for low-income and disadvantaged communities.
read more