Delivering Local Government Services During a Pandemic
Don Wheat
Pizzuti Solutions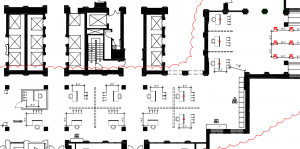 The defining challenge that local governments have faced during the COVID-19 pandemic, and one that they will continue to face for some time, is how to administer critical services in a manner that keeps both the public and government employees safe and healthy. While many services can be delivered via internet/ web-based applications, some residents do not have access in their homes, and others may prefer to interact face-to-face. Still others do not have access to transportation or must rely solely on public transit where it is available. As a result, there is an enduring need for areas inside government facilities where the public and staff can safely interact in person.
In Pizzuti Solutions'  current pandemic planning work with Franklin County, our solution creates a "public interaction zone" inside the downtown government center, where residents  can interact with a variety of different agencies while observing social distancing and other recommended public health practices. Our solution brings the staff to the public in a controlled socially distanced environment on the entrance level, while limiting potential infection transmission by defining areas of the facility where rigorous safeguards have been put in place. In addition to an initial screening process, provision of masks/ disinfectants, and social distancing, there are other operational measures that should be taken.  These may include using both first-come, first-served open staff stations and the use of enclosed offices for appointment-based meetings. Where possible, the heating/ cooling/ ventilation systems for the public interaction zone should be isolated from the rest of the building, and outdoor air supplies increased.  Other strategies inside this public zone include supplemental air filtration and/or air treatment to control active pathogens. 
This general approach should be feasible in most public facilities and will allow the continuation of critical services to the public while maximizing safety for all concerned. 
About three months ago, we launched our Recovery Within Reach campaign, a first-of-its-kind effort to educate Ohioans about the financial effects of opioid addiction — and to connect them with treatment options close to their homes.
Our goal is to create a new way of talking about addiction, one in which people consider the facts and practical realities of how substance use disorder affects their lives. Not long ago, Gov. Mike DeWine challenged all of us in state government to think of ways we could help Ohioans navigate the opioid crisis that has affected our state for so long. For us, that meant considering the financial effects of addiction — and providing tools and trainings to help Ohioans and financial advisers talk about addiction and access care.
read more