DigitalC Anchors the Creation of the New Midtown Tech Hive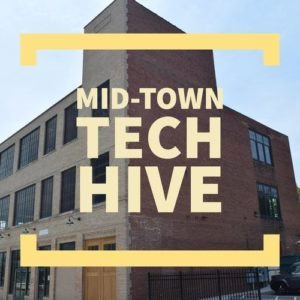 Daniel Kennedy.
City of Cleveland.
Cleveland, like many cities across the State, faces the challenge of transitioning from a manufacturing based community to a digital economy. DigitalC, an innovative company that uses technology to address and solve community problems, understood this issue and was designed with the goal of providing strategies and practical programming to support this transition. Through focusing on designing, building, and operating technology-driven programs and services in partnership with the community, DigitalC has become a vital organization in the City of Cleveland.
DigitalC is creating a unique model of community oriented co-working space called the Midtown Tech Hive. The hive is located in the renovated Frost Building at 6815 Euclid Avenue within the Health-Tech Corridor, an area in the City of Cleveland that fosters and facilitates the growth of biomedical, health care, and technology companies. The space is not just computers and Wi-Fi, but a community gathering space where neighbors can come together and learn how to better understand, and ultimately become active members of the digital age.  The Hive is Cleveland's first neighborhood innovation space dedicated to making Cleveland a thriving hub of innovation and digital inclusion.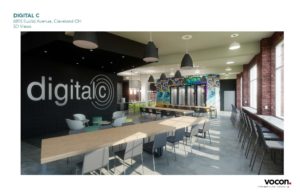 DigitalC, a civic tech collaboration that catalyzes technology for community impact, will anchor the space, along with TIES, the Teaching Institute for Excellence in STEM. In addition to these longer term tenants, the building houses 104 co-working seats attracting entrepreneurs, employees, and freelancers into the workspace.  The Hive will provide events on programming, with a commitment to a diverse user base. Programming will include civic tech events, art openings and classes, digital literacy training through DigitalC's ReStart program, data & coding boot camps, entrepreneurial support, and community meetings.
Total project costs were approximately $1.29 million, funded by HUD EDI, NCF grant, equity and a VCC loan. City assistances supported the development of a much needed asset and resource in the Health-Tech Corridor, advancing digital inclusion efforts and increasing access to technology for community residents. With the renovation of the Frost Building, the City of Cleveland was able to retain DigitalC and TIES and all 20 of their employees. Co-working space will lead to the creation of an additional 30 jobs.
Ninety percent of the Kenworth Class-8 global truck volume is built in Chillicothe, Ohio!
On April 24, 2019, the community celebrated the groundbreaking for a new paint facility that will improve efficiency and preserve the quality of The World's Best Truck.  The project represents $140 million in capital investment and will bring 100 new, great paying jobs to Ross County upon its completion in 2021.  The Kenworth Chillicothe plant, which opened in 1974, currently employs more than 2300 people.  In addition to the new paint facility, a $30 million robotic cab assembly system will be installed this summer.
read more