Diversity & Inclusion Technology Internship
The Diversity & Inclusion Technology Internship initiative places highly motivated college students at early-stage technology companies or companies with a technological need. The Ohio Development Services Agency operates the initiative through the Ohio Third Frontier.
Companies that select and hire interns will be reimbursed for two-thirds of intern wages, up to $10,000. Company profile applications are due Aug. 30, 2019.
Students can apply from Sept. 9 through Sept. 27. The internship period is Fall 2019/Winter 2020.
For more information and to apply, click here.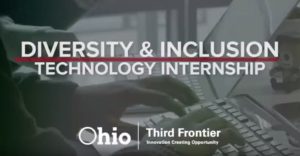 When the Digital Futures building officially opens to the public on September 23, the greater Cincinnati region will be one step closer to creating a world-class innovation district in Uptown Cincinnati. The highly anticipated building provides a transdisciplinary space to bring together University of Cincinnati (UC) experts for collaboration that will impact the community, region and global society.
read more