Diversity & Inclusion Technology Internship
The Diversity & Inclusion Technology Internship initiative places highly motivated college students at early-stage technology companies or companies with a technological need. The Ohio Development Services Agency operates the initiative through the Ohio Third Frontier.
Companies that select and hire interns will be reimbursed for two-thirds of intern wages, up to $10,000. Company profile applications are due Aug. 30, 2019.
Students can apply from Sept. 9 through Sept. 27. The internship period is Fall 2019/Winter 2020.
For more information and to apply, click here.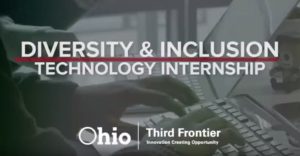 Healthcare is one of the fastest growing sectors across the U.S. and Ohio. According to CNBC, healthcare is only second to technology. Healthcare brings high-paying jobs and significant investment, which is why JobsOhio continues to leverage Ohio's global leaders in patient care, innovative research and academic institutions to grow and attract leading life science companies to the state.
read more