Diversity & Inclusion Technology Internship
The Diversity & Inclusion Technology Internship initiative places highly motivated college students at early-stage technology companies or companies with a technological need. The Ohio Development Services Agency operates the initiative through the Ohio Third Frontier.
Companies that select and hire interns will be reimbursed for two-thirds of intern wages, up to $10,000. Company profile applications are due Aug. 30, 2019.
Students can apply from Sept. 9 through Sept. 27. The internship period is Fall 2019/Winter 2020.
For more information and to apply, click here.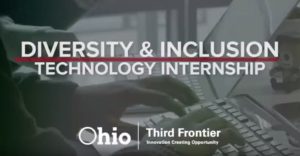 On April 28, JobsOhio was announced as the National Organization of the Year (in our category) of the 2022 American Business Awards (ABA). Widely regarded as the world's premier business awards program, this competition attracted more than 3,700 nominations. This recognition is further validation that the JobsOhio platform is Ohio's competitive advantage.
read more