Don't Miss IEDC's Annual Conference in Atlanta!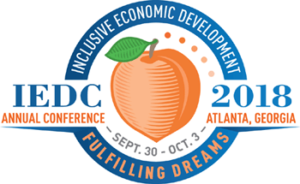 It is hard to believe that in the fall 2018 Annual Conference in Atlanta is right around the corner. The Atlanta Host Committee, along with IEDC staff, is working hard to provide an awesome program that you will not want to miss.​
Check it out today!
The Ohio Economic Development Association is sponsoring a complimentary webinar on bringing equity and diversity to neighborhoods on July 26, 2021, 3 to 4:30pm. Sponsored in collaboration with the International Economic Development Council and the Brookings Institute, the Community-rooted Economic Inclusion Strategic Action Playbook argues that now is the time for community, city, and regional leaders to advance bold place-based solutions that foster long-overdue investment and opportunity within disinvested communities—and to do so in a way that benefits existing residents and small businesses within these communities.
read more