Don't Miss IEDC's Annual Conference in Atlanta!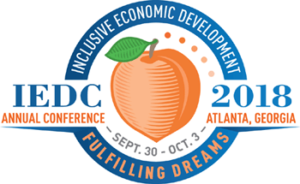 It is hard to believe that in the fall 2018 Annual Conference in Atlanta is right around the corner. The Atlanta Host Committee, along with IEDC staff, is working hard to provide an awesome program that you will not want to miss.​
Check it out today!
ROSEVILLE – Nearly a decade of grant-funded projects are transforming the village of Roseville.
Few will have the impact of a the new supermarket building. "It will be the centerpiece of a new downtown," said Heidi Milner, the village's fiscal officer.
It is nearing completion on part of the former Ungemach Pottery site on Potters Lane. Construction was funded by $750,000 in grants, the bulk of which was a USDA Rural Development Grant, and local investment. The new building features a grocery store, restaurant space and a walk-up window that could be used for ice cream orders. Garage doors on each side of the dining area will give it a pleasant summer atmosphere, as will a patio behind the building that opens facing the levy.
read more