Economic Developers Earn Ohio Certifed Economic Developer Credential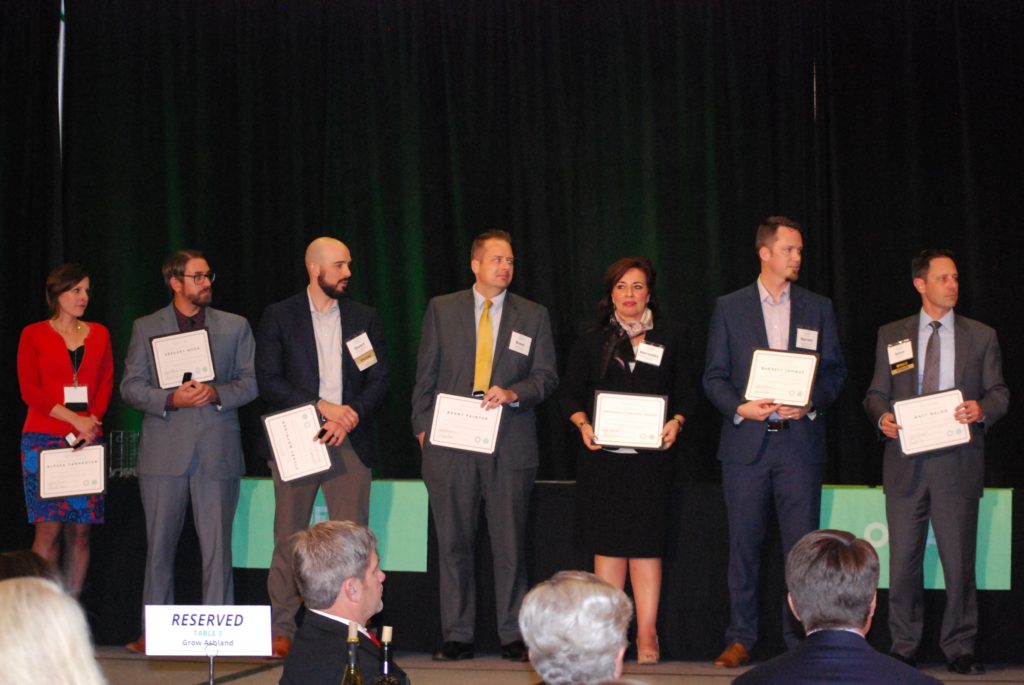 The Ohio Economic Development Association is pleased to announce that seven economic development practitioners have been awarded the credential of Ohio Certified Economic Developer (Ohio CED) during the organization's 2018 Annual Excellence Awards ceremony held Columbus, Ohio on October 17, 2018.
The following individuals have been awarded the Ohio Certified Economic Developer (Ohio CED) credential:
• Alyssa Carpenter, Program Manager, Wayne Economic Development Council
• Gregory Moon, Director, Wyandotte Co. Office of Economic Development
• Stuart Moynihan, Network Manager, JobsOhio
• Brent Painter, Director of Economic Development, City of Strongsville
• Mercedes Sanchez-Moore, International Trade Manager, City of Mentor
• Barrett Thomas, Director of Economic Development, Richland Community Development Group
• Matt Waldo, Senior Manager, Research & Analysis, JobsOhio
The Ohio CED program was launched in January 2017 in conjunction with the creation of the Ohio Economic Development Institute. The Ohio Certified Economic Developer (Ohio CED) credential is designed to demonstrate the depth and breadth of an individual's knowledge and their ability to apply that knowledge to the benefit of their community or organization.
"Ohio's economic developers play a critical role in keeping their communities strong," Jennifer Tisone Price, OEDA Executive Director, said. "Their work ensures the well-being of a community through efforts that entail job creation, job retention, tax base enhancements and quality of life investments."
The Ohio Certified Economic Developer (Ohio CED) is a voluntary certification for practitioners who choose to demonstrate their advanced knowledge and training. The Ohio Economic Development Institute (OEDI) offers the pathway to certification with a curriculum designed to build upon a professional's existing knowledge and skills. Because of prerequisites to begin the OEDI coursework, most professionals have at least five years of experience before being certified though many in the program will have more than ten.
The curriculum entails an initial 50 hours of coursework in the areas of real estate development and finance, site selection and site development, project finance and incentives, and business retention and expansion. From there, certification candidates must complete an additional 24 hours of approved elective continuing education and complete a capstone course. The capstone project is a culminating experience that represents the application of multiple competencies.
Mark Barbash, OEDA Professional Development Chairperson explained the rigor of the certification is designed to ensure Ohio has the most prepared and qualified economic developers to meet the specific needs of their respective communities or regions as well as the state's overall economic development strategy.
"The Ohio CED program ensures economic developers have the advanced training to develop and execute strategies for economic development across the state of Ohio as well as their specific communities and regions, Barbash stated. "The program is state-centric meaning it is designed to align with Ohio's specific economic development structure, tools, and programs."
The next certification cohort includes 17 candidates and runs through May 15, 2019. Economic developers interested in the OEDI courses or the Ohio CED credential should visit ohioeda.com and click on programs.
About three months ago, we launched our Recovery Within Reach campaign, a first-of-its-kind effort to educate Ohioans about the financial effects of opioid addiction — and to connect them with treatment options close to their homes.
Our goal is to create a new way of talking about addiction, one in which people consider the facts and practical realities of how substance use disorder affects their lives. Not long ago, Gov. Mike DeWine challenged all of us in state government to think of ways we could help Ohioans navigate the opioid crisis that has affected our state for so long. For us, that meant considering the financial effects of addiction — and providing tools and trainings to help Ohioans and financial advisers talk about addiction and access care.
read more