Electric Vehicles to Drive Major Corporate Site Location Projects
Nickolas Otto in 1876 invented the four-stroke internal combustion engine in which in which combustion occurs (aka burning) inside the engine rather than in a separate furnace generating motive power by the burning of fuels such as petrol and oil.[i]  Considering the fact that the $3.6 T global automobile industry[ii] for the most part still runs on oil in an internal combustion engine, Otto's invention has had a pretty good run.  Signs are that run is going to slow substantially and the global automobile industry is going to undergo a major transformation as the manufacture and sales of electric vehicles (EV) is on the rise.
All-EVs have an electric motor instead of an internal combustion engine.[iii] The vehicle uses a large traction battery pack to power the electric motor and must be plugged in to a wall outlet or charging equipment.[iv] Because it runs on electricity, the vehicle emits no exhaust from a tailpipe and does not contain the typical liquid fuel components, such as a fuel pump, fuel line, or fuel tank.[v]

Source: U.S. Department of Energy
In an electric drive vehicle, the auxiliary battery provides electricity to power vehicle accessories, and the charge port allows the vehicle to connect to an external power supply in order to charge the traction battery pack.[vi]  This device converts higher-voltage DC power from the traction battery pack to the lower-voltage DC power needed to run vehicle accessories and recharge the auxiliary battery.[vii]  Using power from the traction battery pack, this motor drives the vehicle's wheels.[viii] Some vehicles use motor generators that perform both the drive and regeneration functions and take the incoming AC electricity supplied via the charge port and converts it to DC power for charging the traction battery that communicates with the charging equipment and monitors battery characteristics such as voltage, current, temperature, and state of charge while charging the pack.[ix] The power electronics controller manages the flow of electrical energy delivered by the traction battery, controlling the speed of the electric traction motor and the torque it produces, and the thermal system maintains a proper operating temperature range of the engine, electric motor, power electronics, and other components.[x]  The traction battery pack stores electricity for use by the electric traction motor, and electric transmission transfers mechanical power from the electric traction motor to drive the wheels.[xi]
The growth in the EV market will be huge.  EV market values are estimated at $171. 26 B in 2020, and it is expected to reach a value of $ 725.14 B by 2026.[xii]  Heavy investments from automakers are expected to cater to the growing demand for EVs, including:
Ford committed to spending $11.5 billion on electrifying its vehicle lineup through 2022.[xiii]
Mercedes Benz confirmed that it would roll out 25 new plugin hybrid electric vehicles in addition to fully electric vehicles by 2025.
GM is on its way to an all-electric future, with a commitment to 30 new global electric vehicles by 2025.[xiv]
Toyota aims to produce 3.5 million electric vehicles by 2030, or about one-third of Toyota's sales before the pandemic with plans to offer 30 battery-powered vehicles by the end of the decade.[xv]
Honda has a 40% sales goal of all its vehicle fleet being zero emissions by 2030 and the automaker rolled out projections for the battery electric Honda Prologue SUV set to arrive on sale 2024 with a sales target of 70,000 units for the new model in year one and 500,000 annual sales by 2030.[xvi]
Daimler AG (aka Chrysler) is targeting over 70% of sales in Europe and over 40% in the United States to be low-emission vehicles (LEV) by 2030.[xvii]
The disruption in the current automaker supply chain will be equally huge. In an EV, there is no internal combustion engine, fuel system, exhaust system, no oil, little use of the breaks, no transmission, computer software and electrical wiring will play a larger role and the EV battery becomes the lifeblood of the car.[xviii] The $44 B internal combustion engine transmission industry from Dana Corporation to Allison Transmission will need to adapt to a new business model that will impact its current market but possibly create new ones.[xix] Dana Electrified is leading the way to capture this new market by providing leading drivetrain and e-Propulsion technologies for the EV market.[xx] Same goes with the fuel system and exhaust system industry.  The existing automaker supply chain needs to adapt and be open to new business opportunities that in turn create corporate site location and growth opportunities tied to the EV marketplace.  Another market to watch is a new generation of EV automobile manufacturers.  Tesla of course is the company that catches all the headlines but other EV manufacturers include: Bollinger; Byton; Canoo; Faraday Future; Fisker; Lucid; and Rivian.
EV corporate site location projects are landing across the United States. Electric adventure vehicle manufacturer Rivian Inc. will invest $5 billion in a roughly 2,000 acre carbon-conscious campus in Stanton Springs, Georgia which is expected to create 7,500 jobs.[xxi]  STAR EV, a specialized electric vehicle manufacturer, plans to expand operations at its manufacturing center in Simpsonville, South Carolina investing $8.7 million and creating 50 jobs.[xxii]  Ford picked Tennessee for a massive $5.6 billion investment by Ford and battery maker SK Innovation, on a 3,600-acre campus, creating some 5,800 new jobs.[xxiii] Ford also announced a $100 million investment to locate its new global battery center of excellence at its plant in Romulus, Michigan creating 200 jobs.[xxiv]  A leader in the design and manufacturing of zero-emission electric transit vehicles, Proterra will establish new manufacturing operations at Carolina Commerce Center in Greer, South Carolina providing a $76 million investment and creating 200 new jobs.[xxv]
The Ohio and Michigan marketplaces offer prime opportunities for EV investments.  Michigan is number one when it comes to the auto industry and Ohio ranks second. Ohio has nearly 800 firms employing over 40,000 Ohioans in EV industry, and Michigan offers an average manufacturing worker wage rate lower than Tennessee, Georgia and South Carolina. Ohio and Michigan's rural communities offer a high concentration of manufacturing centers with low wage rates. Ohio and Michigan also benefit from a large array of local and state economic development incentives that should be attractive to the EV industry.
Ohio EV Economic Development Incentives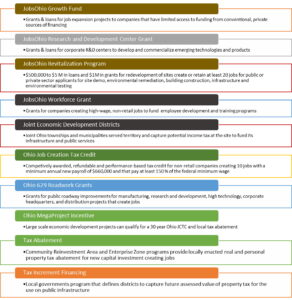 Not to be out done, Michigan offers a wide range of economic development incentives.  The Michigan Business Development Program provides grants, loans and other economic assistance to businesses for highly competitive projects that create jobs and/or provide investment and results in a net-positive return to Michigan.[xxvi] The Jobs Ready Michigan program provides workforce grants for talent recruitment and job training including, but not limited to, employee recruitment expenses, development of customized training development plans, instructor and training materials costs, purchase of equipment related to training, construction of training facilities, and on-the job training costs.[xxvii] The Michigan State Essential Services Assessment maybe exempted for certain projects that meet jobs and capital investment requirements in distressed areas.[xxviii]  Also, the state of Michigan recently enacted legislation to create a $1 billion economic development fund to fund job ready site development projects and a new Critical Industry Investment program to close deals, create and preserve qualified jobs, and bring significant capital investment into Michigan.[xxix] 
2021 was just the start for EV corporate site location projects. Expect more corporate site location project growth in 2022 in the growing EV marketplace and Ohio and Michigan are markets likely to gain EV investments in the coming year.
Contact Dave Robinson at drobinson@montrosegroupllc.com or Nate Green at ngreen@montrosegroupllc.com if you have questions about EVs or other economic development matters.
______________________________________________________________________________________________
[i] https://www.who-invented-the.technology/internal-combustion-engine.htm
[ii] https://www.ibisworld.com/global/market-size/global-car-automobile-sales/
[iii] https://afdc.energy.gov/vehicles/how-do-all-electric-cars-work
[iv] Ibid.
[v] Ibid.
[vi] Ibid.
[vii] Ibid.
[viii] Ibid.
[ix] Ibid.
[x] Ibid.
[xi] Ibid.
[xii] https://www.yahoo.com/now/electric-vehicle-market-growth-trends-095400228.html?guccounter=1&guce_referrer=aHR0cHM6Ly93d3cuZ29vZ2xlLmNvbS8&guce_referrer_sig=AQAAAImVwsf5TDpoL3KPQ8x5aLaMnBmZIlw6DVLC9o5_O30QjlJT4LFkCnhQh9xGHOSp73iZo6EcvTaqIERn_IQL1rB3XBGuJvtDyel5OJKYl1_7RdMvSkljKyWYvq-8EtabIfRN8JFpRKNuWUA-cGfSsw4Sb96HzZ0xd8XA2zUEqtCz
[xiii] Ibid.
[xiv] https://www.gm.com/electric-vehicles
[xv]https://www.nytimes.com/2021/12/14/business/toyota-electric-vehicles.html
[xvi] https://www.autoweek.com/news/green-cars/a37691694/hondas-ev-plans/
[xvii] https://www.kbb.com/car-news/stellantis-lays-out-aggressive-ev-plans-for-chrysler-dodge-jeep-ram/
[xviii] https://www.nrdc.org/experts/madhur-boloor/electric-vehicles-101#:~:text=In%20an%20EV%2C%20there%20is,brakes%20changed%20as%20often%20either.
[xix] https://www.ibisworld.com/united-states/market-research-reports/automobile-transmission-manufacturing-industry/
[xx] http://www.danaelectrified.com/
[xxi] https://www.areadevelopment.com/newsitems/12-20-2021/rivian-stanton-springs-georgia.shtml?utm_source=Area+Development+Site+%26+Facility+Planning+Newsletters&utm_campaign=2cfeddaa86-SFP_this_week_551&utm_medium=email&utm_term=0_94850a8d43-2cfeddaa86-300584677&goal=0_94850a8d43-2cfeddaa86-300584677
[xxii] https://www.areadevelopment.com/newsitems/7-28-2021/star-ev-manufacturing-simpsonville-south-carolina.shtml
[xxiii] Ibid.
[xxiv] Ibid.
[xxv] https://www.areadevelopment.com/newsItems/12-17-2021/proterra-greer-south-carolina.shtml
[xxvi] Ibid.
[xxvii] Ibid.
[xxviii] Ibid.
[xxix] Ibid.
As part of the Inflation Reduction Act (IRA) passed in 2022, a new federal program was created that provides great opportunity for Ohio – the Greenhouse Gas Reduction Fund (GGRF). It allocates $27 billion in financial assistance through three programs to reduce harmful air pollutants, mobilize financing and private capital, and deliver benefits for low-income and disadvantaged communities.
read more