Excitement is Growing for the Digital Futures Building's Official Opening
Brooke Rapp
Uptown Consortium, Inc.  
When the Digital Futures building officially opens to the public on September 23, the greater Cincinnati region will be one step closer to creating a world-class innovation district in Uptown Cincinnati. The highly anticipated building provides a transdisciplinary space to bring together University of Cincinnati (UC) experts for collaboration that will impact the community, region and global society.
The Digital Futures building is the centerpiece of the Digital Futures Complex, a $200 million mixed-use landmark and an anchor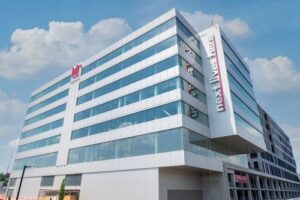 to the Cincinnati Innovation District® (CID). The groundbreaking took place in 2019 with Terrex Development & Construction and Messer Construction. A topping out ceremony followed in 2021. The building is quickly coming alive as tenants of the six-floor building have been steadily moving in throughout the summer.
Leading up to the building's public opening, Uptown Consortium, Inc. (UCI) has engaged in several efforts in the last few months, including: A walking tour and mobility discussion at Martin Luther King (MLK) Drive and Reading Road near the I-71 interchange. A behind-the-scenes tour and group discussion of the building's features and amenities. Outreach to the building's earliest team members-—individuals who are working in some of the labs and centers—to ask for programmatic updates about the new building and how it feels to be among the first employees there.  
Making Way For People: The Future Is Now
Transportation connectivity and access have been key focus areas for UCI. The work has taken on new urgency at MLK and Reading Road as people continue moving into the Digital Futures building and construction nears completion on the second office building.
In late July, a group of transportation enthusiasts, experts and stakeholders convened for a walking tour at MLK and Reading Road to share input and ideas to help advance a collective goal of improving multimodal access and connectivity in Uptown. According to Beth Robinson, UCI's President and CEO, a connected district is a priority as the Uptown Cincinnati region continues to grow.
UCI has been working to develop mobility solutions for MLK and Reading Road to meet the needs of all users, whether they walk, bike, drive or use public transit. "The MLK and Reading Road intersection is a vital thoroughfare serving the Uptown hospitals, University, and neighborhood residents and businesses. We aim to improve multimodal connectivity without compromising the important function it serves," Robinson said.
UCI invited partner stakeholders and experts who understand the need and are working on addressing some of the challenges to share their perspectives during the mobility tour: why mobility and access are essential and mobility concerns and challenges. It was a lively, productive discussion to share insights and ideas in consultation with transportation officials and experts.
Cincinnati City Council member Mark Jeffreys is focused on helping solve pedestrian and transportation safety issues and joined the tour and discussion. "I joined Uptown Consortium and local stakeholders to discuss mobility challenges/solutions at the intersection of MLK Dr. and Reading Rd. By prioritizing pedestrian, bicycle, and transit access, we can safely move people through Cincinnati's Innovation District," Jeffreys said.
As part of the Inflation Reduction Act (IRA) passed in 2022, a new federal program was created that provides great opportunity for Ohio – the Greenhouse Gas Reduction Fund (GGRF). It allocates $27 billion in financial assistance through three programs to reduce harmful air pollutants, mobilize financing and private capital, and deliver benefits for low-income and disadvantaged communities.
read more