Export Interns Can Help Companies Grow
Dan Bowerman
Ohio Department of Development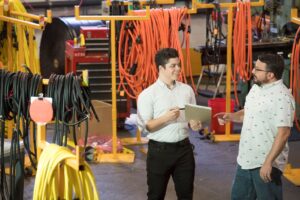 The Ohio Export Internship Program matches businesses interested in growing exports with highly motivated college students who have taken export-focused coursework. The Ohio Department of Development offers participating small to medium-sized businesses a 50 percent reimbursement for the wages of the intern.
The program is a partnership between the Department of Development, The Ohio State University, Youngstown State University, Cleveland State University, the University of Dayton, and two universities that are joining the program this year: Bowling Green State University and Ohio University.
The internships have a track record of helping businesses achieve export success. In the 12 years of the program, 411 student-company matches were created, resulting in 136 internship extensions, 69 new job positions, and 400 new international markets, distributors, or customers.
Companies can apply now. Internships will run from May to August 2023.
For more information and to apply, click here.
As part of the Inflation Reduction Act (IRA) passed in 2022, a new federal program was created that provides great opportunity for Ohio – the Greenhouse Gas Reduction Fund (GGRF). It allocates $27 billion in financial assistance through three programs to reduce harmful air pollutants, mobilize financing and private capital, and deliver benefits for low-income and disadvantaged communities.
read more