Fintech71: Where Financial Leadership Meets Industry Innovation
Ohio is a catalyst to never before seen industry collaboration
Andrew Deye
JobsOhio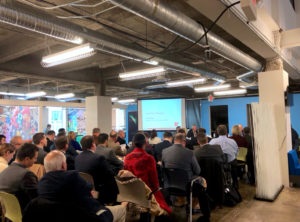 The program received support from national, industry-leading financial institutions and insurance companies that got involved in the program through mentorship and other means. This includes leaders such as Huntington National Bank, KeyBank, Progressive Insurance, Grange Insurance, CardinalCommerce, Visa, Fifth Third Bank, Mastercard, PNC Bank, Nationwide Mutual Insurance Company, First Federal Lakewood and Safelite Group.
Eager to share expert insights and do business with fintech innovators, the industry leaders found the program just as rewarding as the cohort did. JobsOhio's board of directors held its public meeting at Fintech71 on Dec. 18, 2017. The meeting included a presentation from Cheryl Lebens, Vice President, Chief Risk & Strategy Officer of Grange Insurance, and Adrian Becker, Director of Strategic Partnerships at Steady, about the power of collaboration between the traditional and startup companies.
Lebens emphasized that Grange Insurance's involvement was one of the biggest shakers of the company's year. Lebens also noted that Grange Insurance intends to innovate to help shape its future, choosing to disrupt itself rather than be disrupted.
Grange Insurance saw that Fintech71 was the right fit for a chance to evolve, strongly identifying with mutual interests in promoting Ohio and furthering financial services. The company hoped that its participation would grow jobs, build relationships and help gain insight around accelerators and startups. Lebens said the benefits of participating in Fintech71 exceeded expectations.
Ninety percent of the Kenworth Class-8 global truck volume is built in Chillicothe, Ohio!
On April 24, 2019, the community celebrated the groundbreaking for a new paint facility that will improve efficiency and preserve the quality of The World's Best Truck.  The project represents $140 million in capital investment and will bring 100 new, great paying jobs to Ross County upon its completion in 2021.  The Kenworth Chillicothe plant, which opened in 1974, currently employs more than 2300 people.  In addition to the new paint facility, a $30 million robotic cab assembly system will be installed this summer.
read more