Firelands Forward Director – Sandusky, Ohio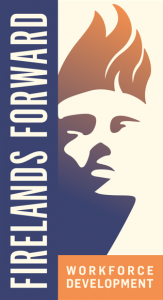 POSITION OVERVIEW
The Firelands Forward Director will be a visionary, dynamic leader who can grow and lead this new workforce development collaborative. The Director acts as the
public ambassador for Firelands Forward and is responsible for facilitating the collective success of the regional effort. Specifically, the Director will drive the
internal and external functions of the initiative, including strategy, communications, community engagement, and fundraising functions. The Director reports to the Executive Director of the Erie County Economic Development Corporation, host organization of the workforce development collaborative.
PREFERRED QUALIFICATIONS AND EXPERIENCE
• Bachelor's degree in a related field such as: human resources, education, business management, economic development or social sciences.
• Minimum 5-years work experience in a related field such as: human resources, community development, workforce development, education, or sales & marketing. Responsibilities in planning and delivering activities that require high level community engagement, facilitation and labor market content knowledge.
• Familiarity workforce development challenges, with a focus on recruitment, hiring and retention of qualified employees.
• Knowledge of project management fundamentals and experience managing complex projects.
• Experience in a start-up environment.
• Experience and comfort in communicating with high-level business executives.
• Supervisory experience leading a small team.
RESPONSIBILITIES
The Director will manage the staff and systems of the Firelands Forward workforce development collaborative and is accountable for nurturing the efficiency and effectiveness of both. The Director will provide high-level strategic thinking and facilitation of Firelands Forward Advisory Board. Key responsibilities include:
ORGANIZATION DEVELOPMENT:
• Build Firelands Forward's identity as a respected, neutral convener among a broad spectrum of local stakeholders
• Construct value-added services in alignment with the strategic goals set by the Firelands Forward planning process that will attract, retain, and develop talent in Erie & Huron Counties
• Cultivate excellent working relationships with senior business, education and community leaders involved in this initiative in a way that can inspire collective action without formal authority
• Ensure effective facilitation of all Advisory Board & Work Group meetings and provide regular reports on group progress against goals and indicators
• Help identify and recruit additional cross-sector stakeholders to participate in the work
LEADERSHIP:
• Developing systems to share organizational decisions with the collaborative's Advisory Board, Work Groups, staff members and other stakeholders
• Integrate and collaborate with subject matter experts to design and implement regional labor market solutions
• Selecting, contracting with, and overseeing work of consultants as appropriate (e.g., data management, grant-writing, etc.)
• Establishing, facilitating, and executing effective and open communication with staff, particularly related to internal decisions and strategy
• Identifying capacity gaps and creating hiring plans that acknowledge and plan for possible organizational growth and shrinking
• Coordinate professional development for Advisory Board and Work Groups to ensure they are informed and prepared to make decisions
COMMITTEE SUPPORT:
• Providing support to Advisory Board officers to facilitate meetings, assisting in preparation of meeting materials, etc.
• Providing regular reports on progress against goals and indicators
• Building and maintaining relationships with Advisory Board and Work Group members
COMMUNICATIONS:
• Communicating the objectives of Firelands Forward to the community and potential partners
• Creating or managing creation of quarterly and yearly summary progress reports for the Advisory Board, Work Groups, and external audiences
FUND DEVELOPMENT:
• Identifying potential funding sources to support Firelands Forward's goals and priorities:
• Writing grants, as needed, or overseeing work of grant-writer
• Working with implementing agencies to provide information to support their grant applications
• Overseeing grant reporting to funders as required
• Providing support and guidance to partner organizations in aligning resources to Firelands Forward's agenda (e.g., supporting identification of grant opportunities that align)
• Tracking all of the Collaborative's funding, including funds from partner organizations and developing relationships with potential funders and participating in relevant networks.
COMMUNITY PARTNERSHIPS:
• Building and maintaining relationships with community partners
• Coordinating research and other activities with Firelands Forward partners to minimize redundancies and to align strategies and actions, including conducting individual outreach and education as needed
• Coordinating with other projects and coalitions in the same field to maintain a full understanding of the current landscape of local and regional workforce activities and integrating their work into the collaborative as appropriate
• Updating outreach strategy as new needs emerge
TO APPLY
Learn more about this project at firelandsforward.com. Email a cover letter and resume to FirelandsForward@eriecountyedc.org by 5PM on Friday, September 4th.
ROSEVILLE – Nearly a decade of grant-funded projects are transforming the village of Roseville.
Few will have the impact of a the new supermarket building. "It will be the centerpiece of a new downtown," said Heidi Milner, the village's fiscal officer.
It is nearing completion on part of the former Ungemach Pottery site on Potters Lane. Construction was funded by $750,000 in grants, the bulk of which was a USDA Rural Development Grant, and local investment. The new building features a grocery store, restaurant space and a walk-up window that could be used for ice cream orders. Garage doors on each side of the dining area will give it a pleasant summer atmosphere, as will a patio behind the building that opens facing the levy.
read more