Formerly Underutilized Hamilton Property Reimagined
Jordan Schotz
City of Hamilton Economic Development Department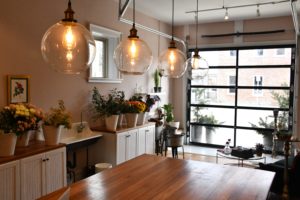 The Davis, a century old building at the corner of Main and D Streets in downtown Hamilton, has recently been reactivated after a $1.8+ million renovation. This project began in early 2017, when the building had only one tenant and sat largely empty. Now, the building's commercial spaces are fully occupied and twelve new residential units have been created on the second and third floors. Because The Davis is located in the heart of the historic Main Street Business District, the impact of additional foot traffic created by the new apartments and street-level small businesses will be felt throughout the district.
Two Little Buds, a florist which sources its flowers locally, opened in spring 2018 in the back section of the building. In January 2019, The Village Ice Cream Parlor, based out of Lebanon, Ohio, opened a new location in the front portion of the building. Finally, on April 13, Scripted Studio opened its doors. Scripted Studio owner and founder, Carrie O'Neal, is a boutique stationery designer, printer, & retailer. Along with established tenant Hughes Pharmacy, these businesses fill all of the first floor commercial space in the building.
On the second and third floors of the building, a total of twelve apartment units have been redeveloped. These apartments vary in size from approximately 634 square feet to just over 900 square feet and are now available for lease. Each unit offers unique historic charm with fully updated, modern amenities, and will help to fill the need for high-quality, market-rate housing within the historic Main Street Business District.
The City of Hamilton has welcomed more than 60 new small businesses since 2014, and 30 of those have been in the Main Street Business District. The energy and investment in this critical district has completely transformed it in the course of just a few years, highlighting the good that can come from the shared vision and combined effort of entrepreneurs, local leaders, and residents.
ROSEVILLE – Nearly a decade of grant-funded projects are transforming the village of Roseville.
Few will have the impact of a the new supermarket building. "It will be the centerpiece of a new downtown," said Heidi Milner, the village's fiscal officer.
It is nearing completion on part of the former Ungemach Pottery site on Potters Lane. Construction was funded by $750,000 in grants, the bulk of which was a USDA Rural Development Grant, and local investment. The new building features a grocery store, restaurant space and a walk-up window that could be used for ice cream orders. Garage doors on each side of the dining area will give it a pleasant summer atmosphere, as will a patio behind the building that opens facing the levy.
read more