Groundbreaking Celebration in Chillicothe
Tammy Eallonardo
EDASO | Ross CIC | JEDISO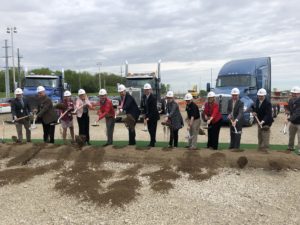 Ninety percent of the Kenworth Class-8 global truck volume is built in Chillicothe, Ohio!
On April 24, 2019, the community celebrated the groundbreaking for a new paint facility that will improve efficiency and preserve the quality of The World's Best Truck.  The project represents $140 million in capital investment and will bring 100 new, great paying jobs to Ross County upon its completion in 2021.  The Kenworth Chillicothe plant, which opened in 1974, currently employs more than 2300 people.  In addition to the new paint facility, a $30 million robotic cab assembly system will be installed this summer.
Harrie Schippers, president and CEO of PACCAR, Inc. (Kenworth Truck's parent company) stated, "Chillicothe is a great place for Kenworth to build trucks because it is close to our customers and suppliers and has high-skilled, talented employees", a testimony to the strength of the southern Ohio workforce.
"At this time when workforce issues are at the top of every economic development conversation", commented Tammy Eallonardo, director of Greater Chillicothe & Ross County Development, "we are extremely proud to hear the president of PACCAR, Inc. credit their success to the Kenworth employees.  They deserve recognition for their commitment to quality."
Kenworth's Chillicothe plant currently produces the T-680, T-880 and the new luxury, long-nose W-990: https://www.youtube.com/watch?v=aZ2TeK0we8s
(Wilmington, Ohio) The Clinton County Port Authority is pleased to congratulate David Riggs, Director of the SBDC at Miami Regionals, for being named Ohio's SBDC State Star in 2021.
America's SBDC, the national association that represents the nationwide network of Small Business Development Centers (SBDCs), annually recognizes one outstanding SBDC employee from each of its 62 members. This outstanding employee exhibits exemplary performance, makes a significant contribution to their state or regional SBDC program, and shows a strong commitment to small business. Using a peer-based selection process, the Ohio SBDC network selected David Riggs for Ohio's SBDC State Star.
read more