Infinite Acres venture chooses City of Hamilton as new headquarters
Jordan Schotz
City of Hamilton Economic Development Department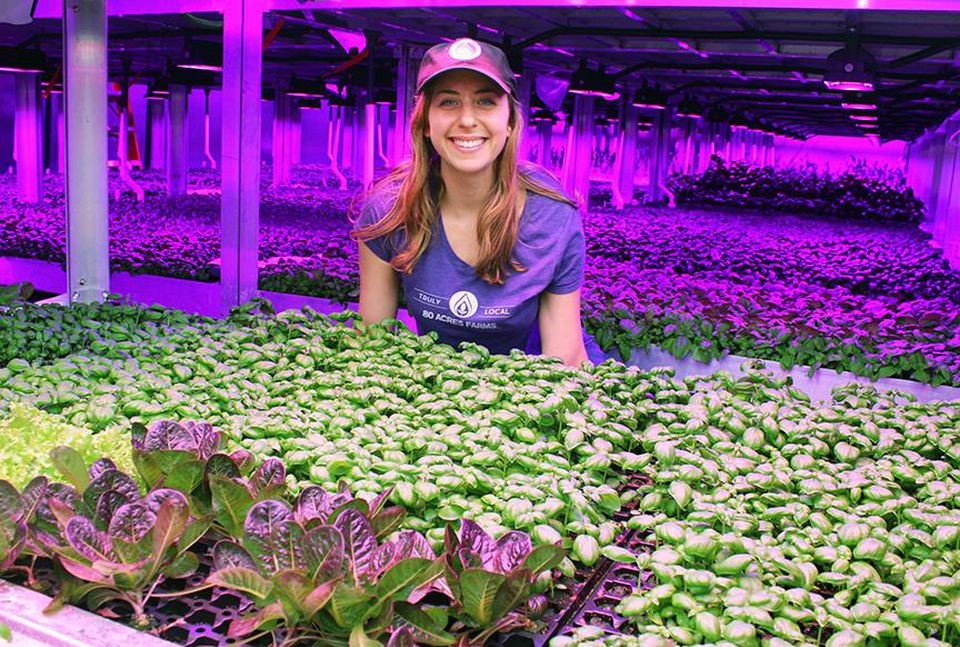 The City of Hamilton has become a home base for high-tech indoor farming operations. The city recently welcomed Infinite Acres, an independent joint venture that aims to provide the best technology available to grow the highest quality produce near population centers throughout the world. The venture includes three firms: Hamilton-based 80 Acres Farms, Netherlands-based Priva Holding BV, and U.K.-based Ocado Group.
"From concept to consumers' tables, we bring a unique value proposition to this underserved marketplace," said Tisha Livingston, CEO of Infinite Acres. "Infinite Acres believes its integrated solutions will have a considerable impact on the profitability and competitiveness of food service industry customers everywhere – growers, distributors, retailers, and governments – who seek the cleanest, healthy, pesticide-free produce for consumers. We look forward to collaborating with other strategic partners that have the same goals for the industry."
80 Acres Farms announced Hamilton as its headquarters at the end of July. The company is so named for its ability to grow 80 acres worth of food in a quarter of an acre of space, and it has been touted as the future of local food. In addition to renovating a historic downtown Hamilton building into a 30,000 square foot office and production space, 80 Acres began work on multiple production spaces at Hamilton Enterprise Park in fall 2018. Phase I was completed in summer 2019, and future phases have been backed by an investment of $26.9 million by San Francisco-based private equity firm Virgo Investment Group. Finally, it is relocating its offices to the top floor of 345 High Street along with Infinite Acres.
"It is truly exciting to see 80 Acres expanding their agriculture operations within the Greater Cincinnati region," said Kimm Lauterbach, REDI Cincinnati President and CEO. "Hamilton continues to be the perfect home for 80 Acres, given the company's commitment to social responsibility, year-round sustainable farming, and innovative automation. We look forward to seeing them continue to thrive and contribute to the economic development of Hamilton."
80 Acres specializes in growing leafy greens, culinary herbs, and vine crops such as tomatoes. Its vision is to establish year-round indoor farming operations in major cities around the world, growing more nutritious and flavorful produce in a highly sustainable way while all but eliminating food miles. With up to 150,000 square feet of controlled environmental agriculture (CEA) space at Hamilton Enterprise Park, the company will be able to dramatically increase distribution with its growing list of retail and food service partners, which already includes Whole Foods, Jungle Jim's, Dorothy Lane Markets, and Green Bean Delivery.
Hamilton Mayor Pat Moeller is excited to see what the future holds for 80 Acres. "This company is changing the face of agriculture, and will be a magnet to attract other innovative companies to our community," he said. "We are proud and honored that they chose to locate their headquarters here."
Click here to read more about Infinite Acres, or click here to read more about 80 Acres Farms.
ROSEVILLE – Nearly a decade of grant-funded projects are transforming the village of Roseville.
Few will have the impact of a the new supermarket building. "It will be the centerpiece of a new downtown," said Heidi Milner, the village's fiscal officer.
It is nearing completion on part of the former Ungemach Pottery site on Potters Lane. Construction was funded by $750,000 in grants, the bulk of which was a USDA Rural Development Grant, and local investment. The new building features a grocery store, restaurant space and a walk-up window that could be used for ice cream orders. Garage doors on each side of the dining area will give it a pleasant summer atmosphere, as will a patio behind the building that opens facing the levy.
read more