Key Takeaways from the 2020 Anchor District Forum
Beth Robinson
Uptown Consortium, Inc.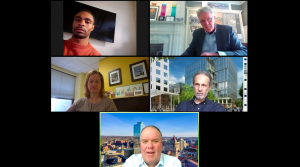 This month, Uptown Consortium, Inc. (UCI) virtually attended the ninth annual Anchor District Forum to connect with peer organizations across the country about community and economic development best practices. While this year's Forum looked different than last year's event, which was hosted by UCI in Uptown, it still provided valuable insights into how similar organizations are moving forward and adjusting their work due to the ongoing COVID-19 pandemic.
While the forum was supposed to be in Worcester, Massachusetts this year, attendees were still able to hear from The Worcester Business Development Corporation (WBDC) President and CEO Craig Blais. WBDC provided an overview of Worcester as an anchor district and what's to come when ADF attendees visit in 2021.
University Circle, Inc. in Cleveland kicked off the presentation with President Chris Ronayne sharing what their team has been working on in a virtual and socially distanced world, including establishing digital programming to continue connecting with stakeholders as part of its Circle Connects effort. Some programming includes virtual cooking demonstrations with local restaurants, large-scale art installations called Voices on View, and a virtual transportation speaker series focused on mobility in the modern era.
The overall theme of this year's forum focused on community engagement during the pandemic. Panelists from UC Davis/Aggie Square, Buffalo Niagara Medical Campus and Oakland Planning and Development Corp. shared how they're continuing to work with the communities surrounding their anchor districts and how other anchor districts can utilize similar strategies.
Here are UCI's key takeaways.
Include both high-tech and low-tech strategies
Wanda Wilson, Executive Director of Oakland Planning & Development Corp., highlighted the importance of using a combination of high-tech and low-tech community engagement strategies to ensure that all people have opportunities to participate. Broadcasting interactive sessions on Zoom or Facebook Live is a great way to virtually engage with community members, but it may not be an option for those without access to a reliable internet connection.
Combining those efforts with low-tech options, such as printing materials to hang on bulletin boards and distribute at community spaces or utilizing social media, text messages or e-newsletters, allows organizations several different touchpoints within the community to communicate with different people based on their unique needs and experiences.
UCI is actively working with the Avondale Development Corporation (ADC) and Avondale Community Council (ACC) to engage community members on several projects, including receiving feedback on plans for the Innovation Greenway, a multi-acre green space being incorporated into the developments at Martin Luther King Drive and Reading Road. This month, UCI virtually presented to both the ADC and ACC.
Continue engaging diverse populations
Each of the panelists touched on the importance of engaging a wide range of community members to ensure that everyone has an opportunity to share their opinions and needs. Not all community members will have access to the same technology, be available at the same times, or be reachable at the same locations (virtual or in-person). Even if a specific community engagement tactic yields a strong turnout, it's important to remember to always look for new and innovative ways to reach other people in the neighborhood.
Bob Segar, Director of Campus Planning at UC Davis Health, is on a team developing an innovation district. They are in the planning process of developing Aggie Square, a co-location of university, business, industry and community-based organizations. Throughout the planning process, Segar and his team realized that they needed to do more to address the surrounding distressed communities, which have experienced deep disinvestment. UC Davis Health started making progress in workforce development and job training and is currently developing a framework on how to best work with the communities and build trust.
The Uptown communities are diverse, vibrant neighborhoods with many different stakeholders, including longtime and new residents, small businesses and the Uptown anchor institutions. UCI believes that it's critical for all community members to have a seat at the table to help determine the future of their neighborhood. To reach a range of stakeholders, UCI works with many community organizations, manages several committees and hosts different events to ensure that everyone has opportunities to participate and be heard.
Utilize a multi-pronged approach
Kyria Stephens, Director of Inclusion & Community Initiatives at Buffalo Niagara Medical Campus, shared how their organization is leveraging a multi-pronged approach to community engagement with several different initiatives all coinciding to meet the needs of their community. Some of their initiatives include increasing computer and internet accessibility, creating financial literacy and marketing programs for businesses and hosting webinars to engage small businesses. It's important to acknowledge that communities need a range of different support programs to address complex needs, especially amid the pandemic with additional stressors and changes to everyday life and business activity.
This approach is similar to UCI's community and business support efforts over the past few months. Like Buffalo Niagara Medical Campus, UCI has launched a series of virtual panels focused on providing support to small businesses and community members, and UCI also works with HCDC, Inc. to provide coaching for Uptown businesses.
Moving forward, UCI is continuing to host virtual panel events, which are free and open to all community stakeholders. Anyone interested in attending the next virtual event with UC Health CEO Rick Lofgren on Wednesday, October 14 at 2 p.m. can register online. In addition, UCI will continue working with its community partners to identify new, innovative ways to support Uptown residents and businesses and effectively engage the broader community.
The forum ended with discussion around the digital divide in education, diversity of office space, access to transportation and affordable housing, and the future of districts in the COVID-19 era.
Beth Robinson is the President and CEO of Uptown Consortium, Inc., a nonprofit community development corporation dedicated to the economic development of Uptown Cincinnati. To learn more about the Uptown Consortium, visit www.uptowncincinnati.com.
As part of the Inflation Reduction Act (IRA) passed in 2022, a new federal program was created that provides great opportunity for Ohio – the Greenhouse Gas Reduction Fund (GGRF). It allocates $27 billion in financial assistance through three programs to reduce harmful air pollutants, mobilize financing and private capital, and deliver benefits for low-income and disadvantaged communities.
read more