Kinetic Vision Celebrated by HCDC with the Ron Schallick Economic Development Award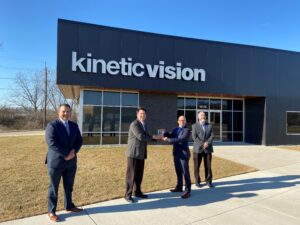 Every year we celebrate the organizations and individuals that have partnered with us to help grow our local economy. Due to COVID-19, we were unable to host our Annual Meeting & Business Development Awards Ceremony. This year we celebrated the Award recipients at their place of business.
The Ron Schallick Economic Development Award is awarded to a local company that has a long history, and a commitment to our community through investment and job creation. This year, Kinetic Vision was celebrated as the Ron Schallick Economic Development award winner due to its longevity of growth over the last 11 years.  Kinetic Vision is an advanced technology company focused on product development and accelerating innovation for their clients. They serve over 50 of the Fortune 500 and are focused on several industry sectors including medical, consumer packaged goods, aerospace, electronics, and transportation.
Kinetic Vision's multi-million dollar investment in a new, state-of-the-art headquarters is a major commitment to Evendale and Hamilton County. When Kinetic Vision moved to Evendale back in 2010, they had 26 employees. They currently have 153 employees, and with their proposed new multi-million dollar investment in a new state-of-art headquarters project, they plan to increase their employee base to over 200 employees. Their previous efforts with us continue to provide well-paying jobs for a growing workforce of engineers, programmers, designers, and innovative thinkers. "The team at Kinetic is not only committed to their community but to green initiatives that will make a positive impact on Evendale and Hamilton County," said HCDC President Patrick Longo.
(Wilmington, Ohio) The Clinton County Port Authority is pleased to congratulate David Riggs, Director of the SBDC at Miami Regionals, for being named Ohio's SBDC State Star in 2021.
America's SBDC, the national association that represents the nationwide network of Small Business Development Centers (SBDCs), annually recognizes one outstanding SBDC employee from each of its 62 members. This outstanding employee exhibits exemplary performance, makes a significant contribution to their state or regional SBDC program, and shows a strong commitment to small business. Using a peer-based selection process, the Ohio SBDC network selected David Riggs for Ohio's SBDC State Star.
read more