Lucas County Earns Work Readiness Certification
Chad Olson, Policy Analyst and Michael Veh, Acting Deputy Director,
Lucas County Department of Planning and Development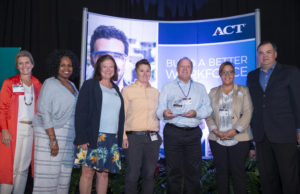 At its annual Workforce Summit in early October, ACT Inc. designated Lucas County as a Certified Work Ready Community. In the ceremony, the Lucas County Department of Planning and Development was recognized for its remarkable achievement in preparing the community to meet workforce needs of modern employers. Planning and Development staff, along with representatives of OhioMeansJobs Lucas County, attended the summit to receive the award.
With support from the Board of County Commissioners, the department launched WorkReady Lucas County in 2014.  For the first two years, the initiative steadily gained momentum. The announcement of major expansions in the local auto manufacturing sector and the need for hundreds of new, skilled workers, led to a surge in interest.
Planning and Development staff adapted the program, creating WorkReady Manufacturing to address the specific needs of the manufacturers building new facilities in Lucas County.   Months of community outreach, with orientation sessions taking place at the OhioMeansJobs Center, local library branches, public schools and community centers introduced thousands of local residents to the opportunities at hand and provided a pathway to a rewarding manufacturing career.
At the center of WorkReady Manufacturing is the National Career Readiness Certificate (NCRC), issued by ACT. The certificate measures and certifies the skills necessary for job success across industries.  Everyone who completed the voluntary program earned a minimum of a bronze level certificate, demonstrating their determination to the development of skills valued by employers.
For Lucas County to meet the Certified Work Ready Community goals set by ACT, the County needed to assess more than 2,000 workers and gain support from 171 employers.  With WorkReady Manufacturing, Lucas County dramatically exceeded those numbers with more than 3,400 certifications awarded and 239 employers supporting through the end of October.
While WorkReady Manufacturing was designed specifically for automotive sector, certificate holders are also currently employed in food manufacturing, transportation, public service, health care, retail and a host of other industries.  Measuring critical thinking and problem solving, reading and using work-related documents, applying mathematical reasoning to work-place situations, and analyzing graphic information, the NCRC documents these essential skills regardless of the industry.
For the project to be successful, more was required than simply moving workers toward certification.  Certifying thousands of workers demonstrated the nimbleness of a department ready to adapt to the changing needs of business.
For employers facing extremely compact timelines, the program needed move to to full speed very quickly.  In only two months, WorkReady Manufacturing was created from scratch and launched, eventually engaging thousands of potential workers and bringing them into the program. With the businesses for which the program was created fully operational, they still turn to the Lucas County Department of Planning and Development and OhioMeansJobs Lucas County for assistance filling open positions.
As one of only three Certified Work Ready Communities in Ohio, Lucas County can honestly boast to being the home of some of the state's best workers.
In late April 2021, a legislative committee in the Ohio House held its second hearing to consider creating a $100 million grant program, exclusively for county land banks, to fund commercial building demolition. Ohio's land bank statutes are recognized as a national model, uniquely providing an opt-in for county commissioners to direct tax collections to fund their county land banks' activities. That revenue model, coupled with allocations from the state's Hardest Hit Fund (specifically, the sun-setting Neighborhood Initiative Program), allowed land banks to grow in number during the past decade and thrive in addressing so-called nonproductive land in their communities. 
read more