Making Way for People: The Future Is Now
Brooke Rapp
Uptown Consortium, Inc.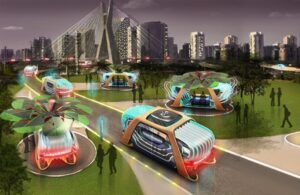 When the MLK Interchange opened in 2017, the vision for Uptown Cincinnati as a district that will incubate talent and attract businesses officially began. Fast forward five years and the four quadrants at MLK and Reading Road in The Cincinnati Innovation District® (CID), a mixed-use development supporting Uptown's medical, research and innovation industries, is quickly coming to life as construction finishes on the highly anticipated University of Cincinnati Digital Futures building, the centerpiece of the Digital Futures Complex. Over the next decade, there are plans for an additional two million square feet of mixed-use development with 7,500+ people working, visiting, and living there each day.
Long before MLK was underway, transportation connectivity and access were key focus areas for the Uptown Consortium, Inc. (UCI). The work has taken on a new urgency at MLK and Reading Road as the first buildings are nearing completion and people are beginning to move in.
According to Beth Robinson, President and CEO, a connected district is a priority as the Uptown Cincinnati region continues to grow. "Today's workforce seeks multi-modal connections to where they work, live, and recreate", she said. "A well-connected district is critically important to creating a walkable and appealing environment where companies and their employees will want to be."
UCI has been working to develop mobility solutions for MLK and Reading Road in The Cincinnati Innovation District® (CID), to meet the needs of all users whether they walk, bike, drive or use public transit. UCI spoke with partner stakeholders and experts—those who understand the need and are working on addressing some of the challenges—for their perspectives on the future of mobility; why mobility and access are important; and mobility concerns and challenges.
The stakeholders and experts include:
Alejandro Lozano Robledo, Research Associate at Digital Futures, Director of Future Mobility Design (FMD) Lab, Strategic Initiatives & Signature Programs, University of Cincinnati Office of Research
Rick Record, Transportation Consultant
Tom Rowe, Principal, Terrex Development & Construction
David Foxx and Ed Rigaud, Managing Partners, Queen City Hills
Please click here to read the full article and learn what UCI's partners have to say about mobility.
Louis Dreyfus Company (LDC), a leading merchant and processor of agricultural goods, announced plans for its state-of-the-art soybean processing facility to be located in Wyandot County, Ohio.  The project will bolster the region's economic growth in the critical food and agriculture sector.  LDC's facility will be located just outside of the City of Upper Sandusky; it's first location in the State of Ohio.
read more