Marysville – Union County Celebrates Launch of Speculative Development
Jason R. Stanford
Union County-Marysville Economic Development
Marysville-Union County Port Authority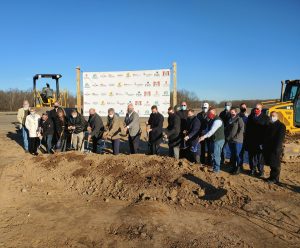 Southgate Corporation recently broke ground on a speculative development at 1100 Innovation Way in Marysville, Union County. Site readiness work for the $8.9 million project has already commenced, with an anticipated completion date of Q4 2021. Located within Marysville's 33 Innovation Park, the development will be comprised of 84,000 SF of multi-tenant Class A industrial and R&D speculative space at 1100 Innovation Way, as well as an adjacent pad-ready site that can accommodate a building of up to 112,000 SF.
In 2016, the City of Marysville acquired a 206-acre property and invested over $7 million to develop the 33 Innovation Park. The City's goal is to capitalize on the rapid growth of the 33 Smart Mobility Corridor and to attract business expansions from target industry sectors, including manufacturing, technology, research and development, agriculture technology, aerospace and advanced mobility.
More information about the project can be found by visiting: http://www.33park.com/
As part of the Inflation Reduction Act (IRA) passed in 2022, a new federal program was created that provides great opportunity for Ohio – the Greenhouse Gas Reduction Fund (GGRF). It allocates $27 billion in financial assistance through three programs to reduce harmful air pollutants, mobilize financing and private capital, and deliver benefits for low-income and disadvantaged communities.
read more