Ohio Development Services Agency Revises Abandoned Gas Station Clean-up Grant Program
Richard D. Ordeman, CP, PG
GT Environmental, Inc.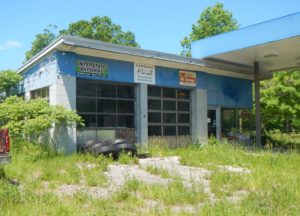 In December 2019, the Ohio Development Services Agency (ODSA) implemented revisions to the Abandoned Gas Station Clean-up Grant Program. The goal of program is to identify and address abandoned gas stations at key locations (i.e., busy roadways and key intersections) that cannot be redeveloped due to the cost of cleanup. Maximum funding for a single eligible property is $100,000 for Property Assessment activities and $500,000 for Cleanup or Remediation activities, including asbestos abatement and structure demolition if needed. Proper use of the grant funds should enable a municipality or land bank to clean up old gas station sites in their community at little to no cost.
Eligible applicants include a county, municipal corporation, township, port authority, or a county land reutilization corporation organized under ORC 1724. The agency must either own the eligible property or enter a "Relevant Agreement" with the current property owner. Eligible applicants, and, if applicable, the organization with which they have a relevant agreement, cannot have caused or contributed to any prior release of petroleum or other hazardous substances on the site, and cannot have owned or operated any Bureau of Underground Storage Tank Regulations (BUSTR) regulated tank(s) on the site when such tanks were in service. Eligible sites must have been formerly used as a gas station and/or service station. The property must presently be vacant and must have a documented BUSTR Class C petroleum release.
In general, the revisions to the Abandoned Gas Station Clean-up Grant Program include:
Limiting eligibility to sites that have not been used for another purpose after the closure of the gas station;
Focusing on sites located in high-visibility locations in or entering municipalities; and
Giving priority to sites that have a known end use, committed parties and/or are located in a comprehensive land use plan district.
The ODSA has also modified their site scoring system to include points for Community Location, Community Impact, Economic Impact, Redevelopment Plan and Environmental Impact. Each of these categories can score up to 20 points, and a site must score at least 70 points in order to be eligible.
While these revisions may not seem very substantial on the surface, they drastically limit the number of eligible sites in a community. Old gas stations that have subsequently been used as a flower shop, convenience store or other innocuous purpose are not eligible even if the old gas tanks are still in the ground and contamination is present in the soil and groundwater. According to the ODSA, while this is generally an environmental clean-up program, it is managed by the ODSA and their main purpose is to increase business, create jobs and improve community economies. Therefore, the Abandoned Gas Station Clean-up Grant Program is currently focusing on higher priority sites that will address the needs of both the environment and the goals of the ODSA.
As part of the Inflation Reduction Act (IRA) passed in 2022, a new federal program was created that provides great opportunity for Ohio – the Greenhouse Gas Reduction Fund (GGRF). It allocates $27 billion in financial assistance through three programs to reduce harmful air pollutants, mobilize financing and private capital, and deliver benefits for low-income and disadvantaged communities.
read more