Ohio Innovates, Thanks to JobsOhio R&D Center Grants
Andrew Deye
Senior Director, JobsOhio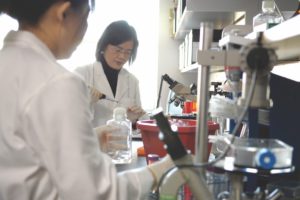 When our team here at JobsOhio determined that we wanted to serve as a catalyst for more corporate innovation, we introduced the JobsOhio Research & Development Center Grant Program in June 2016. This proactive grant program provides qualified companies with an incentive to establish new R&D centers in Ohio and positions the state favorably to win production facilities after R&D products and services are commercialized.
The R&D Center Grant Program allows JobsOhio to work with our local and regional economic development partners to strategically support a wide array of industries, from biomedical to autonomous vehicles, that can move the Ohio economy forward.
2017 R&D Center Grant Projects 
Since its inception, four R&D centers representing an array of industries have been announced and/or launched:
Midmark Corp., a leading provider of medical, dental and veterinary equipment solutions, announced plans to create at least 97 new jobs over five years at a new R&D Center in Versailles, Ohio. Scheduled for construction next year, the new R&D center will allow Midmark and its clients to identify and launch solutions to improve patient outcomes while reducing costs and enhancing the patient experience.
Quality Electrodynamics (QED) officially opened its new research center in Mayfield Village, Ohio, in November. As the first recipient of the JobsOhio R&D Center Grant, the QED Research Center provides the research community and business leaders a platform to develop innovative imaging solutions to better diagnose, manage and treat common diseases across the health continuum.
Franklin International Inc., one of the nation's largest privately held adhesives and sealants manufacturers, announced plans to invest $4.4 million to construct a new 12,500-square-foot R&D facility at its corporate headquarters in Columbus. Franklin International plans to utilize the new center to formulate new polymers, produce next-generation adhesives and innovate manufacturing technologies to increase production efficiencies.
In January 2017, the state of Ohio, The Ohio State University and JobsOhio together invested $45 million for the first phase of a state-of-the-art hub for automated and autonomous testing at the Transportation Research Center (TRC). Construction is underway on the all-new, 540-acre Smart Mobility Advanced Research and Test (SMART) Center, which is located within the 4,500 acres of TRC's testing facility, the nation's largest independent automotive proving grounds.
Corporate interest in the JobsOhio R&D Center Grant Program has been high, resulting in new senior-level conversations with leading domestic and international companies. Ultimately, our goal is to see current and future R&D centers successfully commercialize innovative products or services that lead to new significant investment and corporate job creation in Ohio.
If you have an R&D center that may meet the program's criteria, contact the relevant JobsOhio sector team or reach out to your local JobsOhio regional network partner.
The Ohio Economic Development Association's annual Excellence Awards program recognizes the achievements of individuals and organizations in Ohio in the areas of economic and workforce development. Submit your nominations today and have excellence in your community recognized statewide!
A panel of judges will assess the nominations, determine finalists, and select a winner for each of the categories noted below. Award winners will be announced at a ceremony during the OEDA Annual Summit to be held October 16-18 at The Renaissance Columbus Downtown. All award finalists and winners will be notified prior to the Annual Summit so as to make appropriate arrangements.
read more