Ohio Launches Substantial Broadband Program to Serve Rural Markets
Dave Robinson
The Montrose Group, LLC
Even before the Work from Home movement was launched by COVID 19, the availability of broadband telecommunications network was an essential economic development tool. Access to digital services is reliant on a high-speed data services infrastructure. As the map below illustrates, rural communities throughout Ohio remain behind in the availability of broadband services.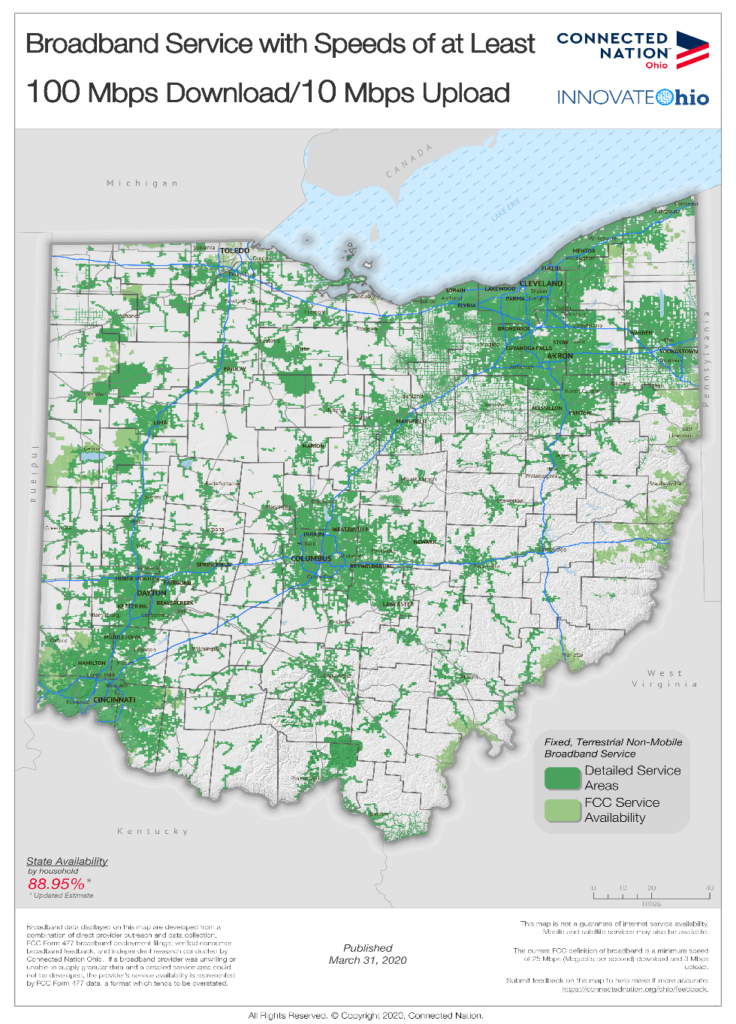 Governor Mike DeWine and the Ohio General Assembly took a big step forward to develop the broadband network through the Ohio operating budget recently enacted. The bill provides $230.0 M in FY 2022 and $20.0 M in FY 2023 for the program, creating the Ohio Residential Broadband Expansion Grant Program with grants awarded by the Broadband Ohio office within the Ohio Development Department (ODOD) to fund the construction of broadband projects in unserved areas of the state. The Ohio Development Department will adopt rules for the grant program including rules for an application form and application procedures and procedures for periodic program grant disbursements. The Ohio Development Department requires the establishment of a weighted scoring system to evaluate and select applications for program grants. The Ohio Development Department's scoring system must prioritize applications according to certain factors listed in order from highest to lowest and, as an example, lists the highest two factors as eligible projects in unserved areas, rather than tier one areas and eligible projects located in distressed areas.
Ohio House Bill 2 was enacted prior to the state operating budget that provides insight into how the Ohio Residential Broadband Grant program will operate. House Bill 2 requires a broadband provider to construct last mile broadband infrastructure after receiving a program grant award.  An application is ineligible for a program grant if:  it proposes to provide tier two service where already available; or, in the proposed area, construction of tier two service is in progress and is being constructed without program funding by the broadband provider that submitted the application or is scheduled to be completed by another provider not later than two years after the date of a challenge to the application. House Bill 2 permits a board of county commissioners, by resolution, to request ODOD to solicit applications from broadband providers for program grants for eligible projects in the municipal corporations and townships of the county. The legislation also requires a solicitation request to identify, to the extent possible, the residential addresses in unserved or tier one areas of the county, provide a point of contact for the county, municipal corporations, and townships where the addresses are located, and include any helpful relevant information, documents, or materials for the application. The legislation also permits a challenging provider to challenge, in writing, all or part of a completed application for a program grant not later than 65 days (or longer if an extension is granted) after the close of the submission period (or extension period). House Bill 2 requires up to 30% of the program grant to be disbursed before project construction begins, up to 60% of the program grant to be disbursed periodically over the course of the project construction according to ODOD rules, and the remaining portion to be disbursed not later than 60 days after notification that construction is complete.
Developing partnerships with telecommunications and rural electric co-ops are critical to success in efforts to develop rural broadband projects. Ohio's new broadband program offers a large pot of funding to help address the substantial broadband gaps in rural Ohio. The Montrose Group has successfully developed broadband studies and helped communities and companies develop broadband networks, and please contact Dave Robinson at drobinson@montrosegroupllc.com if you need assistance with any broadband or other economic development matters. 
As part of the Inflation Reduction Act (IRA) passed in 2022, a new federal program was created that provides great opportunity for Ohio – the Greenhouse Gas Reduction Fund (GGRF). It allocates $27 billion in financial assistance through three programs to reduce harmful air pollutants, mobilize financing and private capital, and deliver benefits for low-income and disadvantaged communities.
read more