Ohio's Outstanding Transportation Infrastructure Is a Key Selling Point
Andrew Deye.
Senior Director of Strategy, Sales & Research, JobsOhio.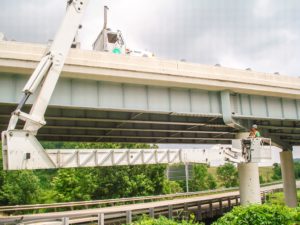 A well-maintained transportation infrastructure is critical to economic success. Businesses depend on roads and bridges to provide a safe, reliable and efficient way of getting materials from suppliers and products to customers. Moreover, the transportation infrastructure can serve as a catalyst for economic growth and competitiveness.
The Ohio Department of Transportation understands the role of infrastructure in economic development and how it supports the efforts of JobsOhio and our regional and local partners across the state.
ODOT has made an unprecedented investment over the last eight years to improve Ohio's roads and bridges. Between 2011 and the end of this year, ODOT will have invested $16.4 billion, or about $2 billion annually, into the state's transportation system, improving 6,374 bridges and 43,598 miles of pavement.
As other states struggle to repair or replace aging highway infrastructure, Ohio is maintaining its greatest man-made asset, using data and technology to take better care of it than ever before. For every dollar ODOT spends on construction this season, 93 cents will go to preserving the state's existing infrastructure.
These are not the only investments ODOT is making to enhance the state's infrastructure, however. ODOT is also leveraging technology to prepare Ohio's roads for the future and to make Ohio a top spot for investments in smart mobility. For example, it is investing millions of dollars to equip 164 miles of roads across the state with fiber-optic cable and roadside communication devices, which will permit the testing of connected and self-driving vehicles. This initiative and other smart mobility projects will not only improve the safety and efficiency of Ohio's roads, they will also attract companies that are involved in smart mobility innovation.
This is good news for the economic development officials at all levels who are working to sell Ohio as the ideal location to start or expand a business. Thanks to ODOT, Ohio's outstanding transportation infrastructure is a key selling point for the state.
With the fourth largest interstate system in the U.S., Ohio is a major transportation hub and a world leader in logistics and distribution. The state is already a top choice for companies that are dependent on highways for shipping. Now these companies can have even more confidence in Ohio's well-maintained roads and bridges, whether they're moving goods or developing self-driving technologies.
JobsOhio is grateful for ODOT's leadership in making large, forward-looking infrastructure investments that enhance the state's appeal to businesses. These investments will pay dividends when it comes to attracting new companies to and retaining existing ones in Ohio.
-end-
ROSEVILLE – Nearly a decade of grant-funded projects are transforming the village of Roseville.
Few will have the impact of a the new supermarket building. "It will be the centerpiece of a new downtown," said Heidi Milner, the village's fiscal officer.
It is nearing completion on part of the former Ungemach Pottery site on Potters Lane. Construction was funded by $750,000 in grants, the bulk of which was a USDA Rural Development Grant, and local investment. The new building features a grocery store, restaurant space and a walk-up window that could be used for ice cream orders. Garage doors on each side of the dining area will give it a pleasant summer atmosphere, as will a patio behind the building that opens facing the levy.
read more