OSDC Appoints Michael Kinninger as New Executive Director
Ohio Statewide Development Corporation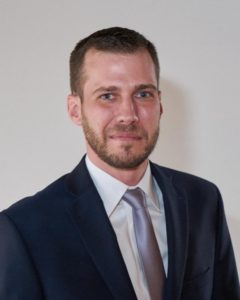 The Ohio Statewide Development Corporation (OSDC) announced Michael Kinninger has been hired as its new Executive Director. Effective August 31, long-time Executive Director Dianne Allen will retire after 18 years in the role. Kinninger had previously served as a Loan Officer for OSDC.
Prior to working as a Loan Officer for OSDC, Kinninger was employed at Ohio Development Services Agency where he coordinated the Community Development Block Grant (CDBG) Economic Development Program, providing gap financing to business investment projects across the State. Kinninger also currently serves as an appointee by the Franklin County Board of Commissioners on its Tax Incentive Review Councils, providing oversight to hundreds of Tax Increment Financing (TIF) and Community Reinvestment Area (CRA) projects across Franklin County. He is a graduate of The Ohio State University John Glenn College of Public Affairs (Master of Public Administration) and Ohio University's Honors Tutorial College (Bachelor of Business Administration).
"Michael is a talented professional with an expansive knowledge of Ohio's economic development resources," said Jeff Darding, President of the OSDC Board of Directors. "Dianne has been instrumental to OSDC's success over the last 18 years and we are well-positioned for the future thanks to her guidance. The OSDC Board is eager to enter a new chapter under Michael's leadership."
"I am excited to take on this new challenge," said Kinninger. "Dianne has built a financially sound, well-respected organization with a talented staff. I look forward to building on the strong foundation she created so that even more Ohioans are able to take advantage of affordable financing options to grow their small businesses."
ROSEVILLE – Nearly a decade of grant-funded projects are transforming the village of Roseville.
Few will have the impact of a the new supermarket building. "It will be the centerpiece of a new downtown," said Heidi Milner, the village's fiscal officer.
It is nearing completion on part of the former Ungemach Pottery site on Potters Lane. Construction was funded by $750,000 in grants, the bulk of which was a USDA Rural Development Grant, and local investment. The new building features a grocery store, restaurant space and a walk-up window that could be used for ice cream orders. Garage doors on each side of the dining area will give it a pleasant summer atmosphere, as will a patio behind the building that opens facing the levy.
read more