Port Authority Hires Economic Development Director
Jennifer Ekey Joins Port Authority Team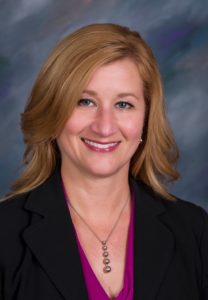 (WILMINGTON, OHIO) The Clinton County Port Authority (Port Authority) announced today that it has hired Jennifer Ekey as Economic Development Director. The new Port Authority position marks another step in the community's collaborative county-wide economic development program.
"Jennifer is a recognized leader in economic development – regionally, and throughout the State," said Port Authority Executive Director Dan Evers. "Adding her to the Port Authority team in support of the economic development program will significantly enhance our ability to deliver the highest quality economic development services to existing and prospective businesses."
Ms. Ekey comes to the Port Authority from the City of Middletown, where she has served as the city's Economic Development Director since 2016.  She was responsible for management of the community's planning and zoning, communication, and economic development activities.
"I'm honored and excited to be given this opportunity," Ekey said. "Clinton County has so many exciting assets and opportunities. I look forward to joining the Port Authority team and building an economic development program that leverages our assets and creates opportunity."
The Clinton County Board of Commissioners, the City of Wilmington, the Community Improvement Corporation of Wilmington, and the Clinton County Convention and Visitors Bureau joined with the Port Authority to launch a County-Wide Economic Development Program, housed within the Port Authority, in mid-2019. As noted in the original announcement, the Port Authority will be responsible for coordinating a range of economic development services – business retention and expansion, business recruitment, and coordinating the efforts and resources of other economic development channel partners, among other functions – to ensure consistency and maximize efficiency in the pursuit of business development opportunities.
Recently named by the Ohio Economic Development Association (OEDA) as the 2019 Economic Development Professional of the Year, Ekey has been working in economic development since 1995, serving the communities of Hamilton, Ohio and Harrison, Ohio prior to her position in Middletown. She is a past President of the OEDA, past Chair of the OEDA Annual Summit Committee, and currently serves on the Mid-America Economic Development Council Board of Directors. "We're extremely fortunate to have a professional with Jennifer's talent, experience, and high regard within the economic development community join the Port Authority," Evers noted. "It speaks volumes about the assets that Clinton County has, and the opportunities before us. I can't think of a better person to help us maximize both."
Ekey will join the staff late in January.
About the Clinton County Port Authority
The Clinton County Port Authority is a special purpose government formed to operate transportation infrastructure and lead economic development efforts. It owns and operates the Wilmington Air Park, an integrated aviation and logistics business park located on 1,900 acres with nearly three million square feet of industrial, office and hangar space. Collaborating with the Board of County Commissioners and other partners on Economic Development matters, the Port Authority markets properties and manages programs available to the entire community.   Learn more at www.wilmingtonairpark.com
About three months ago, we launched our Recovery Within Reach campaign, a first-of-its-kind effort to educate Ohioans about the financial effects of opioid addiction — and to connect them with treatment options close to their homes.
Our goal is to create a new way of talking about addiction, one in which people consider the facts and practical realities of how substance use disorder affects their lives. Not long ago, Gov. Mike DeWine challenged all of us in state government to think of ways we could help Ohioans navigate the opioid crisis that has affected our state for so long. For us, that meant considering the financial effects of addiction — and providing tools and trainings to help Ohioans and financial advisers talk about addiction and access care.
read more