Renovations to Historic Middletown Tower Begin
Cecilia Salomone
Dayton Business Journal
The plans to renovate and restore an historic Middletown building are moving forward.
Construction recently began on the historic Goetz Tower at 1000 Central Ave. in downtown Middletown. Renovations to the long-vacant building, which dates back to 1929, were expected to begin last year, but were delayed by a damaging interior water leak during freezing winter temperatures, according to Middletown spokeswoman Shelby Quinlivan.
She said the effort to renovate the nearly 30,000-square-foot building began in 2014. Canton, Ohio-based Historic Developers, led by Steve Coon, will oversee the project to convert the first floor of the seven-story tower into commercial and office space. Coon could not be immediately reached for comment regarding the project.
The remaining floors of the Goetz Tower will become 16 market-rate apartment units, which Quinlivan said will help to boost Middletown's downtown housing market. The project will cost an estimated $3.5 million, with renovations on the first floor expected to be completed this fall and the upper floors expected to be finished in spring 2020, according to WCPO.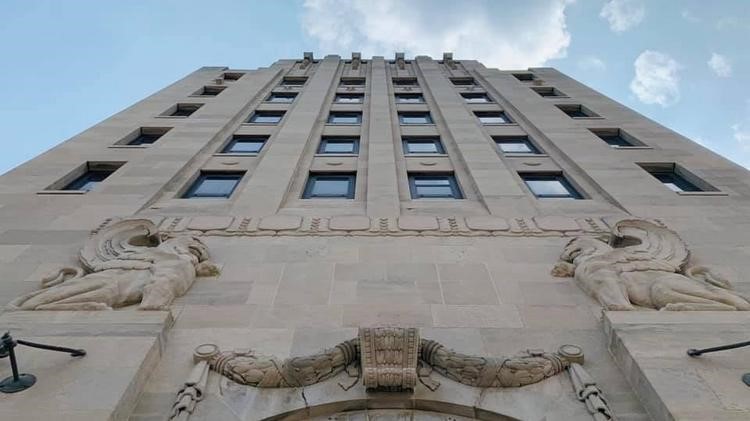 The Dayton Business Journal reported in 2014 the Goetz Tower received $600,000 in Ohio Historic Preservation Tax Credits, along with another $600,000 in federal tax credits.
The project has also been granted a $600,000 loan from Middletown Moving Forward, a non-profit community improvement corporation promoting commercial and industrial development in Middletown.
The Goetz Tower was formerly known as the Middletown Building and Deposit Association building, and was renamed the Goetz Tower in 2014. Located at the corner of Central Avenue and Main Street, the tower was formerly home to the MidFed Savings Bank and later Fifth Third Bank.
The Goetz Tower is neighbored by the Cincinnati State Technical and Community College Middletown Campus, event venue The Windamere, and the Middletown Area Family YMCA.
As part of the Inflation Reduction Act (IRA) passed in 2022, a new federal program was created that provides great opportunity for Ohio – the Greenhouse Gas Reduction Fund (GGRF). It allocates $27 billion in financial assistance through three programs to reduce harmful air pollutants, mobilize financing and private capital, and deliver benefits for low-income and disadvantaged communities.
read more