RiversEdge at Marcum Park in Hamilton, Ohio named one of five Great Public Spaces in the U.S. by the American Planning Association
City of Hamilton Economic Development Department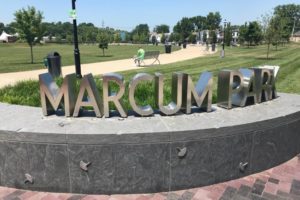 The American Planning Association (APA) recently named RiversEdge at Marcum Park in Hamilton, Ohio, as one of five Great Public Spaces on APA's annual Great Places in America list. APA's Great Places in America program recognizes the streets, neighborhoods, and public spaces in the United States demonstrating exceptional character, quality, and planning—attributes that enrich communities, facilitate economic growth, and inspire others around the country. The Great Neighborhoods, Great Streets, and Great Public Spaces of 2018 are places that are unique and exemplary in their amenities and infrastructure, cultural identity, and use of sustainable and innovative practices.
"Our economic development efforts in Hamilton have included a focus on quality of life from the beginning, so spurring investment in amenities such as RiversEdge at Marcum Park was a huge win for us," said Economic Development Director Jody Gunderson. "Receiving this kind of national award is a tremendous honor for our community and it validates the strategic approach we have taken toward revitalizing our community." The venue has been a major factor in attracting new investment in Hamilton; the Marcum Apartments, a $13 million mixed-use development just across the street, was announced as a direct result of the creation of the park space.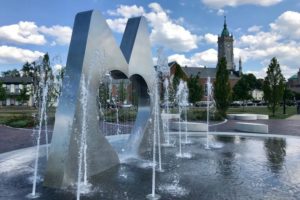 "RiversEdge at Marcum Park has been one of the top reasons for Hamilton's resurgence, attracting thousands of visitors to our urban core every year," said Hamilton City Manager Joshua Smith. "The amphitheater is second-to-none, having twice been named the top outdoor concert venue in Greater Cincinnati. Because of incredible volunteers, donations, the Hamilton Parks Conservancy, and dedicated music fans, RiversEdge is able to bring top talent to our community. The atmosphere is stunning."
According to Cynthia Bowen, FAICP, President of APA, "Public spaces serve a number of functions within a community, from gathering places to recreational venues, and to satisfy these varied community needs requires thoughtful collaboration and planning. Hamilton's RiversEdge is a national example of how public spaces effectively create a sense of place that creates access and opportunity for all."
The Ohio Economic Development Association (OEDA) is proud to congratulate the winners and finalists of the 2019 Annual Excellence Awards! Recognition was presented at the 2019 Annual Summit, held at the Embassy Suites Columbus-Dublin.
The Ohio Economic Development Association's Annual Excellence Awards program recognizes the achievements of individuals and organizations throughout Ohio in the areas of economic and workforce development.
"The Annual Excellence Awards showcase the best of the best in economic development and gives members of the profession the opportunity to come together and collectively celebrate the success of the economic development profession," Jennifer Price, OEDA Executive Director, said.
read more