SCEDC Hosts THINK Sandusky County Bus Tour for School Administration
Andrea Gibson
Sandusky County Economic Development Corporation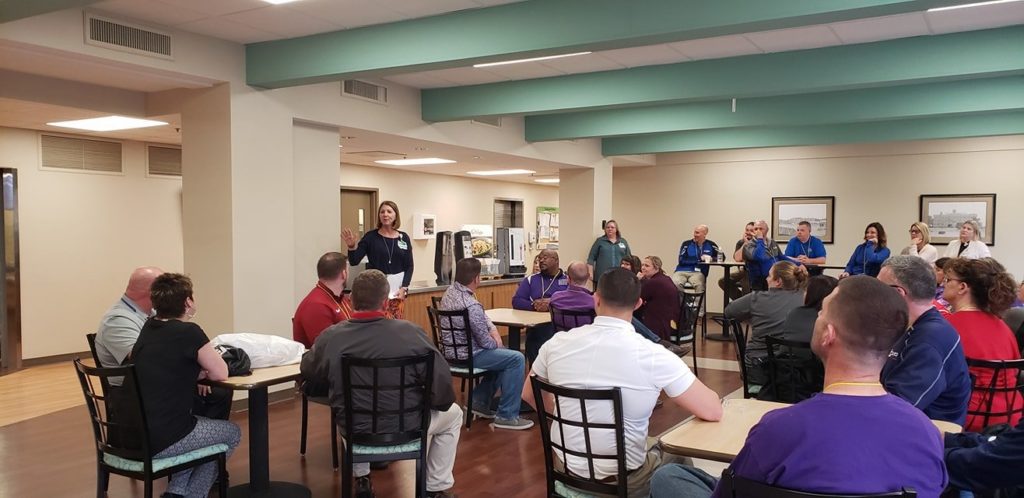 Fremont- Sandusky County, Ohio – Sandusky County Economic Development Corporation (SCEDC) is a non-profit organization that focuses on workforce development, business retention and expansion, and business recruitment for Sandusky County.  On Thursday, May 9th the SCEDC held the THINK Sandusky County Bus Tour for 40 Sandusky County School Administration (Superintendents, Principals, Guidance Counselors and Teachers/Coaches of Influence) and Business Leaders. The group was able to tour six different local businesses throughout their day which focused on manufacturing, agriculture and healthcare industries.  The goal of the bus tour, in conjunction with in-demand jobs week, is for educators to gain first-hand experience about rewarding careers available in Sandusky County.  School administration learned about good paying jobs/careers available in these industries and the skills students will need to be successful in securing and retaining these positions.
The group, which included representatives from Fremont School District, Bishop Hoffman School, Clyde-Green Springs School District, Bellevue School District and Lakota School District, met at the SCEDC office for introductions and where they boarded the charter bus.  The first stop of the day was at Whirlpool Corporation in Clyde where the group toured the museum, learned about the different career paths an employee can take and the salary that can be made in each pathway.  The group also divided up for a short tour of the facility.  After the tour at Whirlpool, the bus traveled to Bellevue for tours at both The Bellevue Hospital and Tower Automotive.  Both facilities discussed renovations and expansion projects, as well as, current in-demand jobs and ways that high school seniors could enter the workforce at their facility.  Following Tower Automotive, the bus traveled back to Fremont where it visited Sunrise Cooperative where the group had lunch and learned about careers in agriculture from Sunrise, as well as, Luckey Farmers out of Woodville. Bus stop number five was at ProMedica Memorial Hospital where the group learned more about current needs in healthcare and was able to tour the newly renovated maternity wing.  The group ended their day at The Freeman Company and heard from several young professionals about how they started working at Freeman and how they have already advanced their career within the company.
Thank you to our event sponsors: United Way of Sandusky County and US Bank, as well as our lunch sponsor, Sunrise Cooperative.
For additional information about the SCEDC please visit their website at www.sanduskycountyedc.org, email communications@sanduskycountyedc.org or visit their Facebook page to see all of the pictures from the Bus Tour at @SanduskyCountyEDC.
As part of the Inflation Reduction Act (IRA) passed in 2022, a new federal program was created that provides great opportunity for Ohio – the Greenhouse Gas Reduction Fund (GGRF). It allocates $27 billion in financial assistance through three programs to reduce harmful air pollutants, mobilize financing and private capital, and deliver benefits for low-income and disadvantaged communities.
read more