The Crown: Looking Forward to Connecting Uptown with the Rest of Cincinnati
Brooke Duncan
Uptown Consortium, Inc.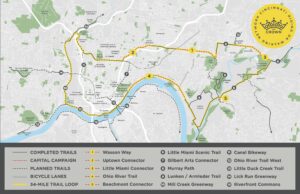 The Cincinnati Riding or Walking Network (CROWN) is a vision for a 100+ mile active transportation network comprised of multi-use trails and on-road bike lanes. Stretching from the far west side to all the way east, it will connect more than 356,000 people in 54 communities to significant destinations like parks, schools, centers for employment, retail, recreation, and entertainment.
The Crown is anchored by a 34-mile, multi-use paved urban trail around the City of Cincinnati. This trail loop will connect existing bike trails, and it will create new and safe pedestrian features in communities. The most prominent trails being linked are the Wasson Way Trail in Hyde Park, the Little Miami Scenic Trail, the Ohio River Trail, and the Mill Creek Greenway.
According to Wade Johnston, Director of Tri-State Trails, an initiative of Green Umbrella, one section of the trail that will make the most significant difference in functionality is in Uptown. "It will link up areas where we have dense populations, the second-largest employment hub. The trail connection is going to be a game-changer because all these people who live near the trail will then have a safe way to walk or bike to the Uptown area." Johnston said.
Green Umbrella is the regional sustainability alliance of Greater Cincinnati, with over 200 member organizations and over 200 individual members passionate about enhancing the environmental health and vitality of the Greater Cincinnati region. Under Wade's leadership, Tri-State Trails has grown from a grassroots coalition to the leading advocacy organization for active transportation issues in Greater Cincinnati. The group is leading a team of advocates, nonprofit organizations, government agencies, businesses, and institutions, helping to bring The CROWN to fruition.
"I think it's going to be a beautiful connection," Johnston continued. "It will make [the innovation corridor] more viable and competitive because then people can bike there."
A key to the trail's success in Uptown is connecting to the recently completed Wasson Way trail. By working with SORTA, the group utilized a section of an old railroad to connect the Wasson Way Trail to the innovation corridor. Uptown Consortium Inc. (UCI) has also wrapped this bike trail network into designs for the Innovation Greenway. This multi-acre green space is designed to increase connectivity between developments and the surrounding neighborhoods and provide recreation and gathering space for community members and tenants.
"It's essential to connect the Innovation Greenway with other projects in the community, including the Wasson Way trail and the CROWN network," said Beth Robinson, President, and CEO of UCI. UCI prioritizes community engagement throughout the planning and development of all projects and, in recent weeks, shared the latest plans with Wasson Way/CROWN bike enthusiasts. The portion connecting Uptown to the CROWN network is expected to be completed in 2023, with the entire loop being finished by 2024.
Johnston was uniquely optimistic when asked about the impact the last year has had on the organization and planning for the network.
"The pandemic has been a real testament to how important these green spaces and trails are for our mental health and physical health," he said. Johnston hopes that the public will take greenspaces into higher consideration for use, and private entities will begin investing in them as well after a year of heavy use.
CROWN received two grants to help with the development of the trail network and is relying on donations for funding. For more information on CROWN, the network of trails, and how to contribute, visit their website.
About three months ago, we launched our Recovery Within Reach campaign, a first-of-its-kind effort to educate Ohioans about the financial effects of opioid addiction — and to connect them with treatment options close to their homes.
Our goal is to create a new way of talking about addiction, one in which people consider the facts and practical realities of how substance use disorder affects their lives. Not long ago, Gov. Mike DeWine challenged all of us in state government to think of ways we could help Ohioans navigate the opioid crisis that has affected our state for so long. For us, that meant considering the financial effects of addiction — and providing tools and trainings to help Ohioans and financial advisers talk about addiction and access care.
read more