The Economic Impact of Senior Housing Speaks for Itself
Matt Canterbury
Homestead Companies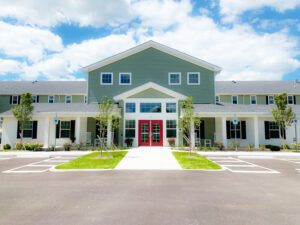 Senior housing is seldom part of the economic development conversation. And when it is, affordable independent living communities are seldom recognized for their value to a city or town. Sometimes, they're even resisted.
This is a mistake that hurts older Ohioans and the communities in which they live.
At Homestead Companies, we are developers, builders and managers of Homestead Village, a growing portfolio of apartment buildings designed specifically for active 55+ living. By 2030, our industry expects 10 million baby boomers — second only to seniors staying in their own homes — to be housed in independent living arrangements. While the majority of Americans 55 and older will remain in their homes as long as possible, a sizable number no longer can afford or keep up with the rigors of home ownership. They may be able to live anywhere on their own but are looking for a simpler life, greater amenities, and new friends and relationships that can come with community-focused living.
These are Americans who will continue to contribute to their communities in ways large and small. Some will continue to work; some will retire. But regardless, keeping them in our communities is what they want and is a positive for local economies. While most want to stay within eight miles of their current home, 40% of seniors can't envision this scenario, according to an AARP commissioned study.
The issue is cost.
Consider that baby boomers, as a cohort, are the second-largest age demographic, with more than 73 million of them approaching, or already in, retirement. Yet, many in this generation are entering their golden years highly reliant on Social Security as their only retirement vehicle, and this makes the availability of affordable independent living communities vital. Independent living communities are not new, but all too many sit within the luxury category, and just 12% of seniors can afford senior living at luxury prices. There remains a sizeable gap in the affordable band that must be addressed in order to meet the needs of this population.
But the advantages of making independent senior living attainable go well beyond the value to the individual. For example, in a tight housing market, providing seniors with good alternatives to staying in a home that no longer suits their needs also can benefit the real estate industry. That's because it frees up those homes for resale to younger generations such as millennials — who before you know it will take the place of baby boomers as the aging cohort looking forward to their later years.
What also isn't widely understood is the economic impact the senior housing industry has on local communities. The industry today provides a total economic impact of $4.8 billion in Ohio alone. This comes in the form of construction jobs, permanent jobs and taxes.
Additionally, seniors exhibit a willingness to give back to their own communities. The Bureau of Labor Statistics says about half of able American seniors volunteer, in the schools, in their faith communities and elsewhere, contributing to more than $8 billion annual volunteer hours.
Simply put, providing a multitude of options to incorporate seniors into one's community brings a vital economic benefit. At the same time, the risks of not having viable affordable senior living communities can have equally negative repercussions.
While the need for nursing, memory care and assisted living developments are widely accepted, there is often resistance to multifamily independent living facilities. Factors such as local zoning codes and building design are important to ensuring any new independent living community fits into the neighborhoods where they are built. But regulations that overlook the efficiencies and lower costs of denser, multifamily developments can stop affordable independent senior facilities in their tracks.
Such regulations hurt communities in four ways by: 1) Driving those who can no longer afford the upkeep or manage the rigors of caring for their own homes to find options in other communities. 2) Robbing cities and towns of a knowledgeable and experienced pool of residents willing to contribute to social and civic life. 3) Forcing others to stay in homes they can no longer maintain. 4) And missing an opportunity to create new jobs, reap additional tax revenues and benefit from increased local spending.
Our society and those who make the rules need to take a fresh look at who is aging, what they need, what they want, what they contribute and what they can afford. This is a multidimensional, and very real modern discussion occurring in every community. Senior housing companies like Homestead are eager to create a new paradigm that benefits us all.
As part of the Inflation Reduction Act (IRA) passed in 2022, a new federal program was created that provides great opportunity for Ohio – the Greenhouse Gas Reduction Fund (GGRF). It allocates $27 billion in financial assistance through three programs to reduce harmful air pollutants, mobilize financing and private capital, and deliver benefits for low-income and disadvantaged communities.
read more