2021 Virtual Ohio Basic Economic Development Course
Announcing:
The 2021 Virtual Ohio Basic Economic Development Course
April 6, 2021 – April 29, 20

Click Here to Register Today!

This year's course is made possible through the generosity of Ice Miller….

The 2021 Ohio Basic Economic Development Course will be conducted online between April 6 and April 29, 2021. The current schedule calls for live course sessions Tuesdays and Thursdays of each week between 12:30 pm and 5:00 pm each day. Basic Course sessions will be recorded and available to students who are unable to attend the live courses.

The 2021 Virtual Ohio Basic Economic Development Course (OBEDC) is an intensive training experience for economic development practitioners, community leaders, local government officials, and others committed to building healthy economies for their communities.
In order to accommodate the challenges brought on by the COVID 19 pandemic, the 2021 Basic Course is being presented online. OEDA is able to bring you the 2021 Basic Course through the support of Ice Miller, LLC, who is the 2021 Presenting Sponsor.
The Basic Course, accredited by the International Economic Development Council, provides intensive training in all of the key economic development skill sets, including:
Business Retention and Expansion

Business Attraction Marketing and Site Selection

Small Business & Entrepreneurship

Workforce and Talent

Inclusive Economic Development

Real Estate Development

Economic Development Finance and Incentives

And more.
WHO SHOULD ATTEND
The Basic Course is perfect for those who are new to economic development or who want to get caught up on the changing practices.  
Previous attendees have included:
E

lected officials, including Mayors, County Commissioners, Township Trustees, and Council members

Economic and community development professionals

Local, state and federal economic development professionals

Local and regional economic development organizations

Neighborhood, urban and city planners

Board Members and staff for Chambers of Commerce, CICs, development organizations
CERTIFICATIONS
The Ohio Basic Economic Development Course is recognized by the International Economic Development Council (IEDC), American Planning Association (APA and AICP), and National Development Council.

The OBEDC is offered in partnership with the International Economic Development Council (IEDC).  Accreditation by IEDC ensures that Ohio's Basic Economic Development Course covers subject areas that are the core building blocks in any economic development organization.
Completion of the Ohio Basic Economic Development Course is a requirement for earning IEDC's Certified Economic Developer (CEcD) credential and prepares one to sit for the CEcD exam.
Completion of the Ohio Basic Economic Development Course is also a requirement for earning the Ohio Certified Economic Developer (OhioCED) credential offered through the Ohio Economic Development Institute (OEDI). 
OEDI provides top-tier, Ohio-focused advanced training for professionals in the core areas of real estate, finance and incentives, retention and expansion, site selection/site development, and workforce and talent. OBEDC is a prerequisite for all of OEDI's aforementioned core courses and most of OEDI's elective courses and trainings.  For more information about OEDI, visit https://ohioeda.com/programs/#institute.

COURSE FEE/REGISTRATION:
The course fee is $560 per person for OEDA members and $675 for non-members. A discounted fee is available for multiple attendees from the same organization. Before choosing this option, please ensure that three or more individuals from your organization are registering. Both registration rates include all instruction, course manual and materials. Registration is required no later than March 23, 2021.  
Registration is available online at https://ohioeda.com/events/. ; You may pay via credit card or check via this online system.
PAYMENT/REFUND POLICY:
Payment must be received on or before the first day on which the course is available. Registrations are refundable, less a $50 processing fee, for cancellations made by March 23, 2021. Sorry, no refunds will be given after this date. Registrations with payment pending will be responsible for full payment if cancellation is received after March 23, 2021.
Click HERE to see the agenda for this year's exciting Virtual Basic Course.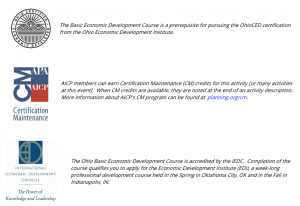 Louis Dreyfus Company (LDC), a leading merchant and processor of agricultural goods, announced plans for its state-of-the-art soybean processing facility to be located in Wyandot County, Ohio.  The project will bolster the region's economic growth in the critical food and agriculture sector.  LDC's facility will be located just outside of the City of Upper Sandusky; it's first location in the State of Ohio.
read more