Building COVID 19 Regional Supply Chain Strategies
David Robinson
The Montrose Group, LLC
COVID 19 has illustrated the challenges created by a global supply chain for thousands of American companies. A supply chain is a network between a company and its suppliers to produce and distribute a specific product to the final buyer.[i] This network includes different activities, people, entities, information, and resources.[ii] The supply chain also represents the steps it takes to get the product or service from its original state to the customer.[iii] Companies develop supply chains so they can reduce their costs and remain competitive in the business landscape.[iv]
Supply chain management is the key to many companies' economic success. As noted by the graphic below, an Accenture survey of companies found major disruption of the supply chain created by COVID 19 that is generating negative economic results from companies that, in many cases, were not forced to close due to government regulations.
In a separate survey by Thomas of over 1000 North American manufacturers, Thomas found that 64% of manufacturers report they are likely to bring manufacturing production and sourcing back to North America — a 10% increase from the same sentiment reported in the March 2020 survey.[v]
COVID 19 presents a dramatic opportunity for regions to capture new companies by supporting current employers' efforts to move their supply chains closer to domestic U.S. sites. EDOs need to analyze their supply chain growth opportunities, available properties to compete for supply chain relocation opportunities, and ways to directly support a company's efforts to draw their supply chain closer to home.
Montrose Group recommends a multi-step strategy for EDOs to adopt to prioritize supply chain opportunities.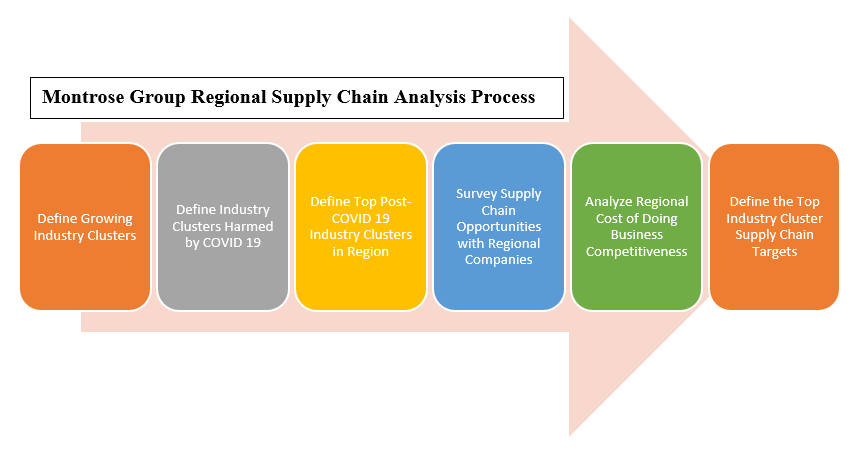 The Montrose Group's approach to implementing a regional EDOs supply chain analysis starts with understanding which industry clusters in a region are growing. This approach utilizes traditional industry cluster data from federal government sources and may be supplemented from proprietary data sources like Emsi and others. Next, these data sources must be examined to determine which industry clusters are most reliant on long-distance (including international) supply chains and are thus most susceptible to disruption. Data is then reviewed to determine which industry clusters are positioned to grow as markets re-open and new industries within regional clusters that should receive consideration for supply chain targeting. Input is then gained through company, developer, and commercial broker interviews through select one-on-one interviews to learn of potential supply chain opportunities and challenges to attract the supply chain to the region. Measuring the cost of doing business for these industry clusters in a region is also critical. The Montrose Group can develop a reverse site selection analysis for the industry cluster targets with another competitor state to illustrate the competitiveness of the region in that industry that measures the cost of real estate, labor, taxes, and construction compared against the likely tax incentives to be offered to illustrate which of the industry cluster targets are most likely to consider the region. Finally, the targeted industry clusters are prioritized for supply chain opportunities. Emsi can create a Supply Chain dashboard to represent the regional supply chain data graphically and interactively—ultimately providing the EDO actionable insights moving forward. The dashboard will be supplemented by recommendations for supply chain recruitment strategies that incorporates findings from surveying local companies.
Finally, economic development incentives and public policy priorities must be aligned to promote supply chain recruitment for the recommended targeted industry clusters.
[i] https://www.investopedia.com/terms/s/supplychain.asp
[ii] Ibid.
[iii] Ibid.
[iv] Ibid.
[v] Ibid.
The Ohio Export Internship Program matches businesses interested in growing exports with highly motivated college students who have taken export-focused coursework. The Ohio Department of Development offers participating small to medium-sized businesses a 50 percent reimbursement for the wages of the intern.
read more