Carlisle Brake & Friction's Medina Flagship Wins Award
Barbara J. Dzur
City of Medina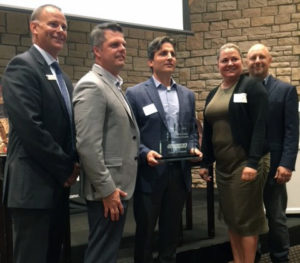 Carlisle Brake & Friction (CBF) is a leading solutions provider of high performance and severe duty brake, clutch and transmission applications to OEM and aftermarket customers in the mining, construction, military, agricultural, motorsports, industrial and aerospace markets. With eleven manufacturing facilities globally located in the U.S., U.K., Italy, China, and Japan, and with over 2,000 employees, CBF serves over 100 leading original equipment manufacturers in 50 countries.
In July of 2017, CBF broke ground for an expansion project to their current 218,465 square feet building in the City of Medina. The expansion also entailed closing their Oklahoma plant and transferring its operation to Medina. Their intention was to make the Medina Plant their flagship plant worldwide for manufacturing of enhanced steel processing and warehousing.
The project called for a 150,000 square feet addition to the existing manufacturing facility, plus new machinery, equipment, and significant electrical infrastructure added to the current building.  In addition to the expansion, there would also be major façade renovations to the exterior of the building, as well as many interior renovations including the addition of a conference room, enlarging the cafeteria, renovating locker rooms for employees, adding a new public entryway, new docks, and new parking lot area.  The overall investment was expected to be $30 million, culminating with the hiring of 70 new employees which would add a little over $3 million in payroll.
The city offered job creation and property tax incentives to retain CBF in the community.  JobsOhio provided a $500,000 grant, and the Medina County Port Authority's sales tax bond program was estimated to save CBF $406,250 in the cost of construction materials for the expansion project.
The CBF project recently received the Medina County Economic Development Corp's Capital Investment award at MCEDC's 2018 Annual Medina County Business Awards.  The completed project became an investment of over $50 million, and the company has hired more than 100 new employees to meet their production needs, far surpassing the $3 million payroll they had estimated.
CBF President Ted Messmer, Robert Petersen, VP of Global Operations, and VP Human Resources Lynn Caster were on hand to receive the award. In his acceptance remarks, Mr. Messmer acknowledged that because of his military experience, Medina's team approach was what convinced him that expansion in Medina was the right choice for CBF.
ROSEVILLE – Nearly a decade of grant-funded projects are transforming the village of Roseville.
Few will have the impact of a the new supermarket building. "It will be the centerpiece of a new downtown," said Heidi Milner, the village's fiscal officer.
It is nearing completion on part of the former Ungemach Pottery site on Potters Lane. Construction was funded by $750,000 in grants, the bulk of which was a USDA Rural Development Grant, and local investment. The new building features a grocery store, restaurant space and a walk-up window that could be used for ice cream orders. Garage doors on each side of the dining area will give it a pleasant summer atmosphere, as will a patio behind the building that opens facing the levy.
read more