CEP Uses Monitors to Help Spread Good Economic, Workforce News
Champaign Economic Partnership of Champaign County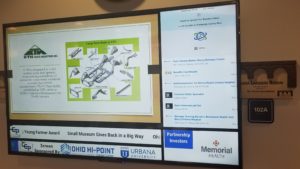 The Champaign Economic Partnership in Champaign County has found a new way to share good news about economic and workforce development – and local job postings:  eleven xx-inch TV monitors strategically placed around the county.
The CEP continually updates content displayed on the 11 monitors – one at each of the five Champaign County high schools; one each at Urbana University, Ohio Hi-Point Career Center and in the CEP's office window in the center of Urbana's downtown business district; and one each in the windows of three downtown businesses in Mechanicsburg, North Lewisburg and St. Paris.
The project is being supported by Urbana University, Ohio Hi-Point, Dayton Power & Light, FASTLANE, Darby Dental Smiles, Urbana Dental Smiles, Berry Digital Solutions and Weidmann Electrical Technology, Inc.
CEP Director Marcia Bailey said the monitors help inform students, county residents and visitors about local economic and community development growth, job opportunities, and education and workforce training. The monitors, she added, complement CEP's partnership with local schools and manufacturers to prepare students for local career opportunities. Job openings advertised on the monitors come from the CEP's local job posting website, Community Job Connect.
"I'm a strong believer in the education-workforce ecosystem. And the CEP is leading the way to organizing education and employers, preparing talent to meet the needs of our employers," Christopher Washington, Executive Vice President and CEO of Urbana University, a branch campus of Franklin University, said.
The monitors are the ideal way to deliver the information, he adds. "Kids today are digitally wired and pay attention to what's on the screen."
Kelsey Webb, Ohio Hi-Point Director of Communications and Marketing, said, "We're participating because this is completely in our wheelhouse to prepare students for career or college. We're excited to help spread the message that there are great opportunities here for students."
###
(Wilmington, Ohio) The Clinton County Port Authority is pleased to congratulate David Riggs, Director of the SBDC at Miami Regionals, for being named Ohio's SBDC State Star in 2021.
America's SBDC, the national association that represents the nationwide network of Small Business Development Centers (SBDCs), annually recognizes one outstanding SBDC employee from each of its 62 members. This outstanding employee exhibits exemplary performance, makes a significant contribution to their state or regional SBDC program, and shows a strong commitment to small business. Using a peer-based selection process, the Ohio SBDC network selected David Riggs for Ohio's SBDC State Star.
read more