City of Tiffin launches second Dream Big Tiffin process on Sept. 3
Nick Dutro
Tiffin-Seneca Economic Partnership
Community development project portal open through Oct. 15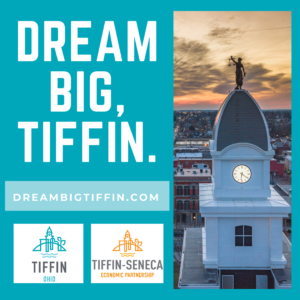 TIFFIN, OHIO – On behalf of the City of Tiffin, the Tiffin-Seneca Economic Partnership is announcing the start of the 2021 Dream Big Tiffin cycle. Citizens and organizations can submit ideas and full project proposals for community development projects online at www.dreambigtiffin.com starting on Friday, Sept. 3, through Friday, Oct. 15, 2021. Community development projects are those that benefit the general public and improve quality of life, like parks, the arts, education, healthcare and public services.
Tiffin Mayor Aaron Montz said, "Last year was the first time doing this, and we had ten full projects and 55 ideas submitted. More than 100 residents provided ideas and feedback in 2020, and we look forward to seeing even more participation this year. We also appreciate TSEP's hard work in making this happen."
Once the submission period closes on October 15, the general public will weigh in, and then three specialty committees or "panels" in the areas of Quality of Life, Education & Training and Health & Human Services will evaluate and classify each of the project proposals as "priority," "recommended," or "reviewed" based on a number of factors, including whether the project has a solid business plan, is mature and ready to move forward, has secured any other funding, and is sustainable. The last step is full approval of the list by the entire Tiffin Community Development Committee.
Jodie Reinbolt, Executive Director of the Tiffin Community Foundation and Chair of the Tiffin Community Development Committee, is excited about this coming year. "Our committee of almost 30 community leaders contribute their time and talent to help Tiffin attract, develop, and fund more projects that will positively impact people's lives. Our Board of Directors at the Tiffin Community Foundation always looks forward to learning what new projects are in the pipeline for the new year."
Although the program does not have any dedicated funding, the Dream Big Tiffin process is designed to make it easier for government and foundation officials to know what the community thinks is important and ready to go. It also is designed to identify and assist projects that are not quite mature enough to move forward to get the help they need to successfully move forward.
Ohio Senator Bill Reineke is also a big supporter of the initiative. "When trying to bring state resources back to the district for important local projects, it's much easier to help those communities that are working effectively together to prioritize their needs, and this is a good example of exactly what I'm looking for."
The report summarizing last year's efforts can be found at www.dreambigtiffin.com. Questions or interest in the 2021 Dream Big Tiffin initiative can be directed to TSEP's Community Development Manager, Audrey Flood at flood@tiffinseneca.org.
About the Tiffin-Seneca Economic Partnership
Started in 1983 as the Seneca Industrial and Economic Development Corp. (SIEDC), the Tiffin-Seneca Economic Partnership is a private, non-profit corporation dedicated to driving positive economic, downtown, and community development in Tiffin and Seneca County, Ohio, which consistently ranks among the top communities nationally for economic development. Learn more about the great things going on in Tiffin and Seneca County at www.tiffinseneca.org.
As part of the Inflation Reduction Act (IRA) passed in 2022, a new federal program was created that provides great opportunity for Ohio – the Greenhouse Gas Reduction Fund (GGRF). It allocates $27 billion in financial assistance through three programs to reduce harmful air pollutants, mobilize financing and private capital, and deliver benefits for low-income and disadvantaged communities.
read more