Downtown Redevelopment Districts Boost Persistent Revitalization Efforts
Trisha Sefakis
HCDC
Downtown Redevelopment Districts (DRD) are a relatively new and untapped tool for historic neighborhood business districts in Ohio. Work has been underway for almost 20 years in the Village of Lockland to revive a vacant industrial site and bring new life to the adjoining business area.  Persistence has paid off as private investors are now looking to make multi-million dollar commitments which set the stage for future revitalization. HCDC marshalled numerous resources to make the downtown redevelopment in Lockland a success.
The initial step in this process was for HCDC to identify revenue generators.  Two major generators were found that will lead to the creation of two 10 acre DRDs. These included vacant land, brownfields, and under-utilized buildings in and around the historic areas. HCDC identified the first generator as 12 acres of land, with only three owners that could be cleared of old multi-story factory space and be used for new advanced manufacturing construction. The Village then moved to acquire and assemble those properties to assure that it was developed in a way that would lead to significant new income tax and real property tax.  The second generator was the sole survivor of the former industrial campus; the 20,000 s.f. Stearns & Foster Headquarter office building.  In May 2021 Pepper Construction announced their intent to invest $5,000,000 to $8,000,000 into the facility to showcase their historic renovation expertise and serve as their regional headquarters.
The next step was to document historic assets to meet DRD requirements. Lockland is gifted with a rich history, fantastic infrastructure, and convenient access for a wide-range of workforce which results in a very compelling business opportunity. After much discussion with property owners, the decision was made to establish an entire historic district rather than following the original plan to submit two buildings for the National Register of Historic Places.  This extra effort added an additional year to the process but it paid off as DRD renovation grants can only be provided to buildings on the Register or those that contribute to a historic district. The establishment of the historic district allows for a broader potential community impact.
Next, a Request for Proposal (RFP) crafted by HCDC was issued in 2019 and resulted in Neyer Properties being identified as the preferred developer in 2020 on the 12 acre shovel ready site.  Neyer is then able to provide end-users with greater detail about how to implement and the costs of developing the site.  Several promising advanced manufacturing end users are now considering the site.
Downtown Redevelopment Districts (DRDs) promote the rehabilitation of historic buildings, encourage private-public partnerships, and help fund improvements that benefit the greater community. The expectation is that the revenue generators will create a surplus after the first 10 years to fuel additional renovation grants on other buildings and projects for years 11-30. The benefits of these combined efforts to obtain the DRD designation will be realized for years to come in job creation and community development.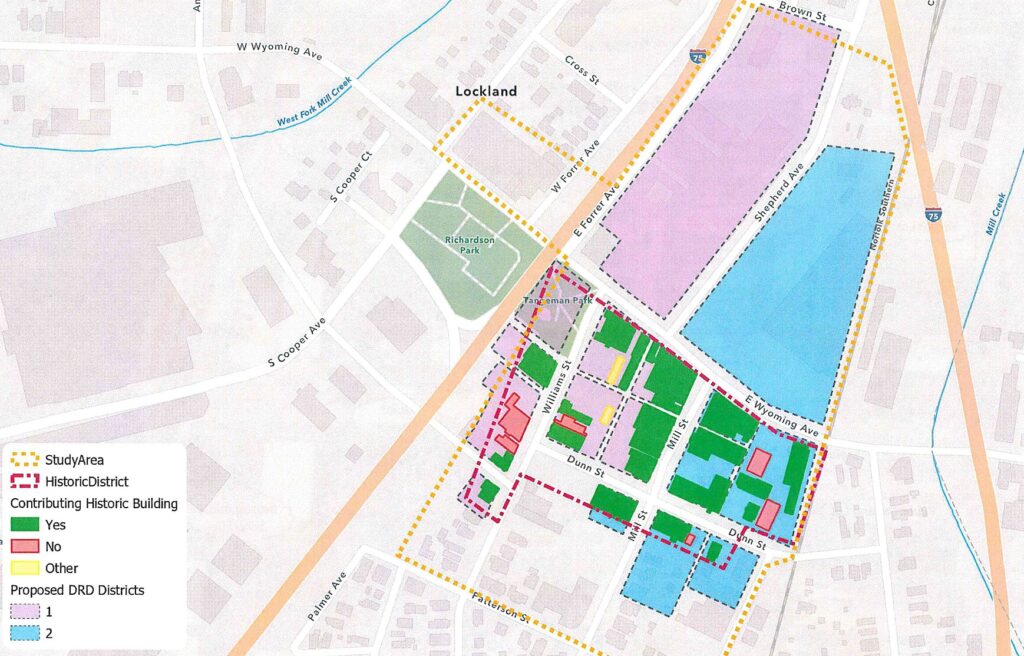 (Wilmington, Ohio) The Clinton County Port Authority is pleased to congratulate David Riggs, Director of the SBDC at Miami Regionals, for being named Ohio's SBDC State Star in 2021.
America's SBDC, the national association that represents the nationwide network of Small Business Development Centers (SBDCs), annually recognizes one outstanding SBDC employee from each of its 62 members. This outstanding employee exhibits exemplary performance, makes a significant contribution to their state or regional SBDC program, and shows a strong commitment to small business. Using a peer-based selection process, the Ohio SBDC network selected David Riggs for Ohio's SBDC State Star.
read more