Export Interns Help Businesses Grow
Dan Bowerman
Ohio Development Services Agency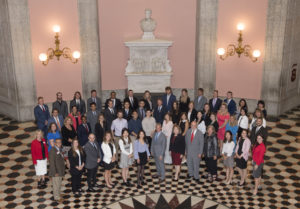 The State of Ohio wants to help businesses grow, and a program offered by the Ohio Development Services Agency can provide the boost needed to improve international marketing or logistics.
The Ohio Export Internship Program places students who have completed export-focused coursework with businesses seeking to boost exports. College students from across the state can apply to take the export course at The Ohio State University Max M. Fisher College of Business, the Cleveland State University Monte Ahuja College of Business or the Youngstown State University Williamson College of Business Administration.
Participating businesses receive a 50 percent reimbursement for intern wages, up to $3,600. The application period has started and will close on February 1, 2019. Students will be matched with companies in March 2019, and the internships run from May to August 2019. The program culminates in the Ohio Export Internship Program Showcase in August 2019.
To learn more, visit eip.development.ohio.gov or contact Wendi Howell, Export Assistance Program Manager, at (614) 466-6811 or Wendi.Howell@development.ohio.gov.
About three months ago, we launched our Recovery Within Reach campaign, a first-of-its-kind effort to educate Ohioans about the financial effects of opioid addiction — and to connect them with treatment options close to their homes.
Our goal is to create a new way of talking about addiction, one in which people consider the facts and practical realities of how substance use disorder affects their lives. Not long ago, Gov. Mike DeWine challenged all of us in state government to think of ways we could help Ohioans navigate the opioid crisis that has affected our state for so long. For us, that meant considering the financial effects of addiction — and providing tools and trainings to help Ohioans and financial advisers talk about addiction and access care.
read more