Export Interns Help Businesses Grow
Dan Bowerman
Ohio Development Services Agency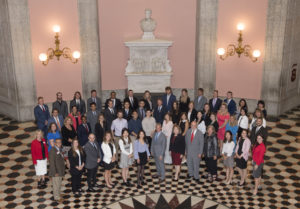 The State of Ohio wants to help businesses grow, and a program offered by the Ohio Development Services Agency can provide the boost needed to improve international marketing or logistics.
The Ohio Export Internship Program places students who have completed export-focused coursework with businesses seeking to boost exports. College students from across the state can apply to take the export course at The Ohio State University Max M. Fisher College of Business, the Cleveland State University Monte Ahuja College of Business or the Youngstown State University Williamson College of Business Administration.
Participating businesses receive a 50 percent reimbursement for intern wages, up to $3,600. The application period has started and will close on February 1, 2019. Students will be matched with companies in March 2019, and the internships run from May to August 2019. The program culminates in the Ohio Export Internship Program Showcase in August 2019.
To learn more, visit eip.development.ohio.gov or contact Wendi Howell, Export Assistance Program Manager, at (614) 466-6811 or Wendi.Howell@development.ohio.gov.
Join a discussion, hosted by the Greater Ohio Policy Center (GOPC), to learn about the recently passed HB168, which establishes the bona fide purchaser defense (BFPD) into Ohio law. The establishment of the BFPD into Ohio law better aligns Ohio law with federal standards, and aims to encourage the redevelopment of lightly contaminated brownfield sites.
read more