"How to Support Local Business in Winter, NOW!"
Bridget Anderson & Camryn Greer
Patronicity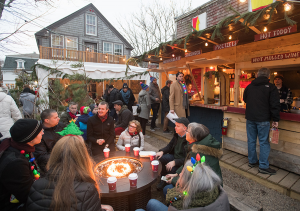 In the midst of the pandemic, Main Streets and commercial centers around the world are working to rapidly reinvent themselves in an attempt to extend a lifeline to their struggling small businesses. Open streets, "streateries," shared streets, expanded sidewalks, new bike lanes and more are popping up from city to town in an effort to save the lifeblood of their local economies and the heart and soul of their communities.
It's time to get creative, if we want to bring customers back to our small business community and provide a safe social space for ourselves and our neighbors.* This can look like adapting current spaces to reflect this "new normal," activating under-utilized spots in your community to create new spaces to gather, eat, and shop, or even just leveraging connections in your community to help small businesses collect the funds they need to help them stay afloat. In April of 2020, Patronicity launched a series of programs geared towards COVID19 relief for small businesses. Here's what we found from our 242 small business campaigns, all varying in need, size, and services.
FACILITATING CONNECTION
At the end of the day, it's all about finding new ways to connect your community to your spaces.
Telling YOUR story – What makes your business or commercial center unique? What kind of role do small businesses play in your community, especially during COVID19? Finding creative ways to communicate the value of your small business sector to your community via social media and other online platforms is a great way to attract more local participation and position your business as a key stakeholder in your community.
Deepening existing connections – Communities are interconnected. Finding ways for key players from private, public and nonprofit sectors should share services, ideas, and resources. Collaborating in mutually beneficial ways can have a huge impact on the local economy. One great example of this is the LaPorte Christkindlmarkt, which combines the arts, physical activity, local crafts vendors, and small businesses and restaurants in the area.
CREATING SAFE PLACES
Pre-COVID19, we were seeing trends shift customers and investment away from traditional shopping malls and back into the local business community. Now, there are so many opportunities to use our commercial spaces in new, exciting, and SAFE ways. So much can be accomplished by changing or adapting a space in small or big ways.
Ensuring consistency – Consider the health and safety guidelines and procedures related to COVID19 as an opportunity to innovate, expand, or adapt. Even moving to an online ordering system has long-term benefits to your patrons. Here's an example of activating unused space from the Richmond Winter Farmers Market which responded to the demand for more space by reenvisioning an existing but unused space.
Using what you know  – Simple steps like propping open doors, providing masks and sanitizing materials, and managing the number of people in a space at any given time can make a positive difference in the way patrons feel when attending an event or visiting a small business or restaurant. Here is one example of a small business taking steps to make their space patron-friendly in a pandemic world.
*Need ideas? Winter Places sent out a call seeking design ideas for quickly implementable, low cost interventions to drive visitors back to Main Street that will encourage them to stay longer and patronize area restaurants and businesses during the winter months. This effort resulted in an in-depth guide, which can be downloaded for free here, full of ideas on how your spaces can be adapted and activated for safer gathering, eating, and shopping in a winter world.
ROSEVILLE – Nearly a decade of grant-funded projects are transforming the village of Roseville.
Few will have the impact of a the new supermarket building. "It will be the centerpiece of a new downtown," said Heidi Milner, the village's fiscal officer.
It is nearing completion on part of the former Ungemach Pottery site on Potters Lane. Construction was funded by $750,000 in grants, the bulk of which was a USDA Rural Development Grant, and local investment. The new building features a grocery store, restaurant space and a walk-up window that could be used for ice cream orders. Garage doors on each side of the dining area will give it a pleasant summer atmosphere, as will a patio behind the building that opens facing the levy.
read more