International Company Brings Headquarters to Tiffin
Opus Management offers digital options for small business
Amy Reinhart
Downtown Tiffin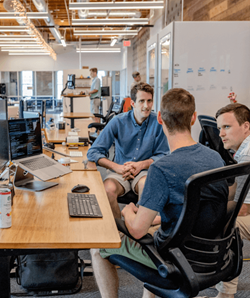 Tim and TJ McKee announced they are relocating the international headquarters for their digital management company, Opus Management, to 23 W. Perry St. in downtown Tiffin.
Tim was born and raised in Tiffin but left after high school, he felt it was time to come home and be close to family. Co-owner Tim McKee said "We like that Tiffin has two colleges in addition to a community college nearby where we can recruit young professionals to remain in the community after graduation. Opus Management is also here to help small businesses grow locally."
Opus Management is an international tech company with 12 employees nationwide, three of which are in Tiffin and plan to open their new location by November 1, 2022. They offer services like digital marketing, business management systems set up and training, bookkeeping for small businesses, website design, as well as provide a number of trainings focused on "how to's" with software programs, social media forums, tech talks, and more. They have the ability to tie all systems together making the businesses they assist, higher-functioning and more integrated. Opus Management has uniquely scalable solutions for start-ups to enterprise size companies. Their goal is to bring enterprise solutions to small and mid-sized businesses at an affordable price, while tailoring the strategies and methods to the unique needs of each company.
Mayor Dawn Iannantuono said, "We are thrilled to have local entrepreneurs coming back to our community and opening their headquarters in Tiffin. I wish Tim and TJ the very best and hope their business to continues to thrive."
About Opus Management:
Opus Management opened in 2000 in Sacramento, California and currently have offices in California, Nevada, Florida, Indiana, Texas, and Washington. Their business management solutions enable and empower quality and excellence by combining a practical industry experience with an automized set of services.  A winning strategy is the first step toward innovation.
About Downtown Tiffin
The revitalization of downtown Tiffin began in 2011, when a group of community members came together as "Tiffin Tomorrow", with the goal of promoting and encouraging economic development in downtown Tiffin, and creating plans, programs and actions to ensure long-term vitality and prosperity. In 2014, the city of Tiffin contracted with SIEDC (now TSEP) to act as the downtown organization which is now "Downtown Tiffin." In 2015, Tiffin joined Heritage Ohio's Ohio Main Street Program and became a state and nationally accredited program with Main Street America. For more information, click here.
About three months ago, we launched our Recovery Within Reach campaign, a first-of-its-kind effort to educate Ohioans about the financial effects of opioid addiction — and to connect them with treatment options close to their homes.
Our goal is to create a new way of talking about addiction, one in which people consider the facts and practical realities of how substance use disorder affects their lives. Not long ago, Gov. Mike DeWine challenged all of us in state government to think of ways we could help Ohioans navigate the opioid crisis that has affected our state for so long. For us, that meant considering the financial effects of addiction — and providing tools and trainings to help Ohioans and financial advisers talk about addiction and access care.
read more