JobsOhio Launching Innovation Initiative to Attract & Develop Tech Companies
Dave Robinson
The Montrose Group, LLC
Based upon concerns that Ohio currently underperforms in many innovation ecosystem components and ranks 39th in the rate of entrepreneurs and 48th in startup creation, the state's private sector economic development corporation, JobsOhio, is launching a substantial innovation initiative.  The election of Ohio Governor Mike DeWine did not signal the end of previous Governor John Kasich's JobsOhio corporate to run the state's economic development program.  In fact, with the appointment of several new board members and a new JobsOhio President, JP Nauseff, JobsOhio undertook a "listening session" to determine the next direction for the organization.  JP Nauseff announced that new direction is what is termed JobsOhio 2.0 at a board meeting in Lima, Ohio several months ago.
Part of JobsOhio 2.0 involves the devotion of resources and adoption of a new policy all designed to develop and attract additional companies in the innovation and technology industry space.  U.S. economic trends encourage regions to focus on the five drivers that promote high-wage job retention and expansion and capital investment.
Energy is a growth industry driven by midstream and downstream energy and energy-related chemical companies plans to invest $346 M in the U.S. from 2012-2025.
Technologycompanies are booming with U.S. employment reaching an estimated 11,812,147 workers in 2018, an increase of 2.3 percent, and, according to Accenture, by 2020, there will be more than 50 B connected devices in use around the world, all converging to create huge new markets according to Cyberstates recent study.
Logistics is a booming industry driven by the growth of the $400 B e-commerce industry transforming the retail industry into the fulfillment center industry—growing regions are developing in part in success in the logistics marketplace according to a recent SelectUSA study.
Manufacturingis still a high-wage American job center with an average wage for 230,760 production workers in the United States is $16.58 an hour for an average annual wage of $34,490 according to the U.S. Bureau of Labor Statistics.
Service sectorjobs dominates the American economy and regions with a large pool of college and university educated workers have an opportunity to gain high-wage, professional service jobs.
Clearly for states like Ohio with a declining job base in the manufacturing sector, driving economic growth through markets such energy, technology, logistics and high-wage service jobs is a key to economic prosperity.
JobsOhio 2.0 Innovation Program will involve co-investing in real estate campuses where leading-edge anchor institutions such as universities and health systems and companies cluster together and connect with startups, incubators and broader innovation opportunities.  Models Ohio is looking to include Cortex in St. Louis, Research Triangle Park in Raleigh-Durham, and Purdue University's Discovery Park.
The Cortex Innovation Community is a vibrant, hub of business, innovation, and technology integrated into St. Louis' historic Central West End and Forest Park Southeast neighborhoods, surrounded by nationally ranked universities and medical centers and abundant cultural and recreational assets.  Founded in 2002, Cortex is a 501(c)(3) nonprofit that oversees the development of the Cortex Innovation Community, a 200-acre urban hub of innovation and entrepreneurship located in St. Louis, Missouri.  Founded by Washington University in St. Louis, Saint Louis University, University of Missouri – St. Louis, BJC Healthcare, and the Missouri Botanical Garden, it is one of the region's largest innovation campuses, physically designed and actively curated to accelerate high-growth startups and advance established innovative corporates. Cortex is a nationally and internationally recognized innovation hub that supports all technology sectors with a range of startup companies services and real estate prepared for large company growth.
Discovery Park at Purdue University is a place where challenge and innovation converge, a hub where researchers move beyond traditional boundaries, collaborating across disciplines and with policy makers and business leaders to create solutions for a better world.  Nestled on 40 acres on the southwest edge of Purdue's West Lafayette campus, Discovery Park is a complex of facilities that provides open, collaborative research environments where interdisciplinary projects are connected throughout Purdue, Purdue Research Park and the world and provides leading edge research and development around topics such as advanced data sciences and autonomous vehicles.
The Research Triangle Park was founded in 1959 and located at the center of three Tier-1 research universities, RTP is the largest research park in the United States and a premier global innovation center in both Durham and Wake Counties, North Carolina. Its 7,000 acres house hundreds of companies, including science and technology firms, government agencies, academic institutions, startups and nonprofits with over 300 bio/Phrma manufacturing, research and development and information technology companies primarily located in this suburban style office park.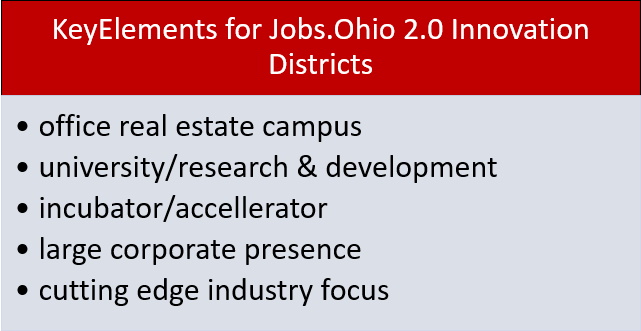 While the formal application for the JobsOhio 2.0 Innovation Districts are not available yet, based upon the input provided, it is apparent that success in gaining some of the $50M to be available in annual funding for this program will require an office campus setting from a real estate standpoint, services to attract startup companies such as incubator/accelerators, land for the location of large corporate end users, connection to university or corporate research and development with a focus on a cutting edge technology or industry that is key to success for the project.
Contact Dave Robinson at drobinson@montrosegroupllc.com if you have additional questions or need assistance with developing an Innovation District in Ohio.
As part of the Inflation Reduction Act (IRA) passed in 2022, a new federal program was created that provides great opportunity for Ohio – the Greenhouse Gas Reduction Fund (GGRF). It allocates $27 billion in financial assistance through three programs to reduce harmful air pollutants, mobilize financing and private capital, and deliver benefits for low-income and disadvantaged communities.
read more