Montrose Group's Client Newark Arcade Wins Ohio Transformational Mixed Use Development Tax Credit
Dave Robinson
Montrose Group LLC
The Newark Arcade Project, a Montrose Group client, was one of 13 projects awarded the highly competitive Ohio Transformational Mixed Used District (TMUD) tax credit by the Ohio Tax Credit Authority on March 2, 2022.  The Ohio Tax Credit Authority approved these awards as part of the $100 million first round of the state's new TMUD Program. The Ohio Department of Development reported there were $417 M worth of applications.
The state of Ohio TMUD program provides $100M in insurance premium tax credits for the next three fiscal years. TMUD creates a nonrefundable credit of 10% of the development costs or 10% of an insurance company's capital contribution and permits unclaimed credit amounts to be carried forward for up-to five years. The Ohio TMUD programs awards $80M for projects within a major city (100,000 or more in population) that exceeds $50 million, includes the renovation, rehabilitation, or construction of at least one new or previously vacant building; is 15 stories in height; or is at least 350,000 sq. ft.; or is a project which creates $4 million in annual payroll, and $20M for projects not within a major city (100,000 or more in population) the project includes at least one new or previously vacant building that is two or more stories in height; or is at least 75,000 sq. ft. TMUD sets aside a cap of up-to $100 million per fiscal year, with no more than $40 million going to a single project and divides the overall $100 million between large city and small city projects, $80 million for large cities and $20 million for small cities.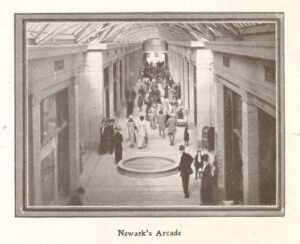 Designed by Howell & Thomas of Columbus, the Newark Arcade was constructed 1908-09 to serve as one of eight glass-ceilinged shopping centers built in Ohio. The city-block-long Newark Arcade, once known as the Arcade Mini Mall, is located between Third and Fourth Streets in Downtown Newark.  Newark Development Partners CIC purchased the Newark Arcade in 2019 and plans to transform the Newark Arcade into a mixed-use development with 25,000 sq. feet of space leased for retail and office tenants, 10,541 square feet of space for Winter Farmer's Market, Community Events and special events, and 15,795 square feet to be developed into 19 apartments.  The Newark Arcade was awarded over $1.5 M in TMUD tax credits to match the $10M in private fundraising and federal and state historic tax credits which will cover the $17 M in redevelopment costs.
The next ODOD round of applications for the TMUD tax credits are expected to be released in the coming months.  Competition for TMUD funding will remain fierce as urban and rural regions struggle to meet surging housing demands.  Please contact Dave Robinson at drobinson@montrosegroupllc.com if you have any questions about the TMUD tax credit program or other economic development or lobbying matters.
The Ohio Export Internship Program matches businesses interested in growing exports with highly motivated college students who have taken export-focused coursework. The Ohio Department of Development offers participating small to medium-sized businesses a 50 percent reimbursement for the wages of the intern.
read more