OEDA ED YP Event @ Warped Wing Brewing Co, Sept 13
You're invited to attend a Dayton Region ED YP event on Thursday, September 13th at Warped Wing Brewing Company! This event, sponsored by Ohio Economic Development Association (OEDA) is open to current Community or Economic Development professionals, those who work in partnership with Economic Development, and anyone interested in ED topics or learning more. Feel free to extend the invitation to others who may be interested in attending. We hope you can join us!
For questions about this event or ED YP, contact Sarah Custer at SCuster@daytonregion.com or Michael Norton Smith at SmithMN@mcohio.org.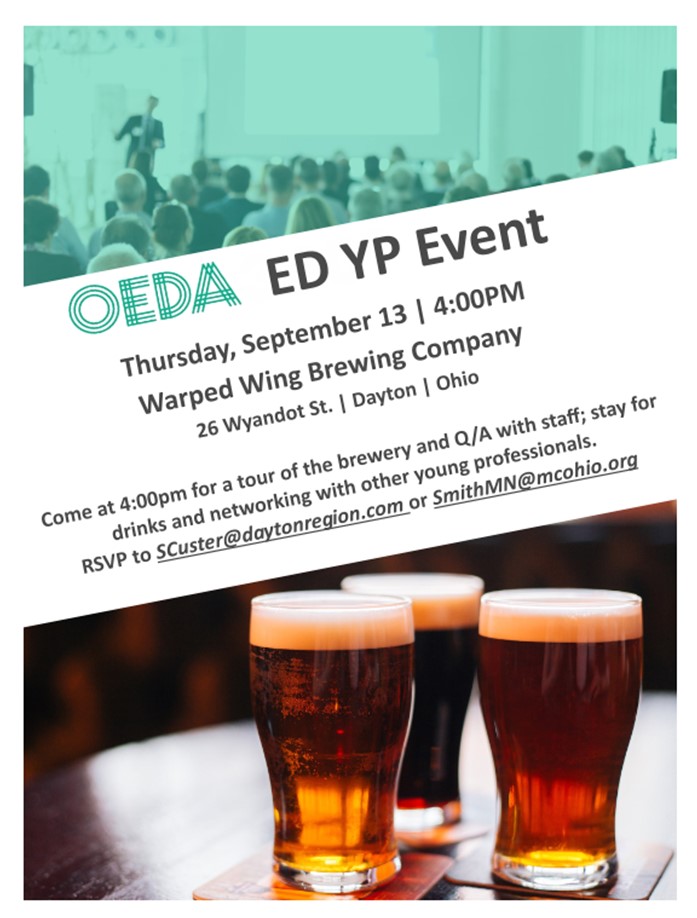 ABOUT ED YP
Economic Development Young Professionals (ED YP) connects new economic development professionals to experts, mentors, and peers from the state of Ohio. ED YP is sponsored by the Ohio Economic Development Association (OEDA). Each of the six designated regions across Ohio has established an ED YP chapter. The purpose of these groups is to develop meaningful programming and opportunities in continuing education, professional development, and networking. For more information about the Ohio Economic Development Association, visit: https://ohioeda.com/.
Marketing helps but a fancy web site cannot replace a strong site development plan that illustrates an Opportunity Zone is prepared for development. Creating an Opportunity Zone site development plan involves five steps that includes the creation of site plans and infrastructure finance strategies, enacting land use entitlements and tax incentives, advocating for a state and local Opportunity Zone public policy agenda, marketing the Opportunity Zone and seeking professional guidance to operate an Opportunity Zone by seeking investors.
read more