OEDA ED YP Event @ Warped Wing Brewing Co, Sept 13
You're invited to attend a Dayton Region ED YP event on Thursday, September 13th at Warped Wing Brewing Company! This event, sponsored by Ohio Economic Development Association (OEDA) is open to current Community or Economic Development professionals, those who work in partnership with Economic Development, and anyone interested in ED topics or learning more. Feel free to extend the invitation to others who may be interested in attending. We hope you can join us!
For questions about this event or ED YP, contact Sarah Custer at SCuster@daytonregion.com or Michael Norton Smith at SmithMN@mcohio.org.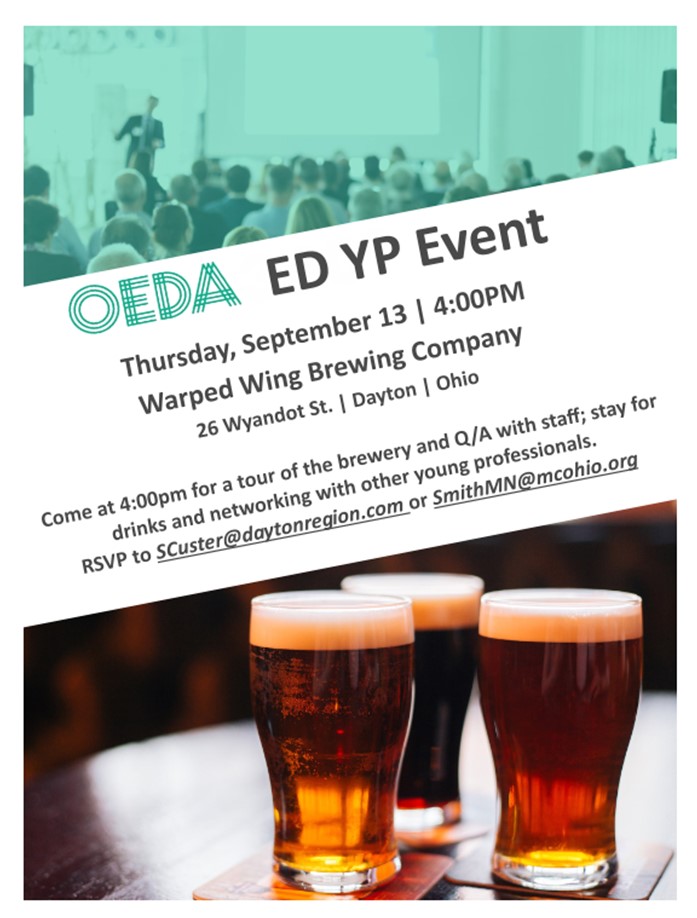 ABOUT ED YP
Economic Development Young Professionals (ED YP) connects new economic development professionals to experts, mentors, and peers from the state of Ohio. ED YP is sponsored by the Ohio Economic Development Association (OEDA). Each of the six designated regions across Ohio has established an ED YP chapter. The purpose of these groups is to develop meaningful programming and opportunities in continuing education, professional development, and networking. For more information about the Ohio Economic Development Association, visit: https://ohioeda.com/.
ROSEVILLE – Nearly a decade of grant-funded projects are transforming the village of Roseville.
Few will have the impact of a the new supermarket building. "It will be the centerpiece of a new downtown," said Heidi Milner, the village's fiscal officer.
It is nearing completion on part of the former Ungemach Pottery site on Potters Lane. Construction was funded by $750,000 in grants, the bulk of which was a USDA Rural Development Grant, and local investment. The new building features a grocery store, restaurant space and a walk-up window that could be used for ice cream orders. Garage doors on each side of the dining area will give it a pleasant summer atmosphere, as will a patio behind the building that opens facing the levy.
read more